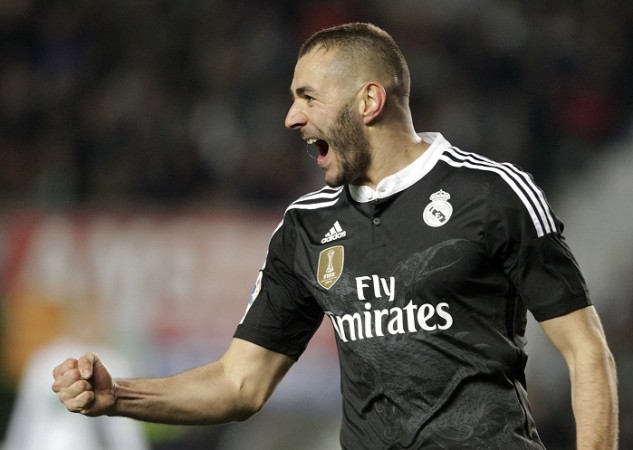 Arsene Wenger has the go-ahead from the Arsenal board to break the club's transfer record in order to sign a world-class striker this summer, with director Lord Harris further saying the proposed No.1 target is open to a move to the Emirates.
Karim Benzema is thought to be Wenger's preferred choice this summer, and after the Arsenal manager hinted at a possible move, Harris opened about the possibility of signing that marquee striker, without actually mentioning the Real Madrid man.
"We get a list of the players that Wenger wants," Lord Harris told the Daily Mail. "On the list is a centre forward, but I'm not going to tell you who he is.
"You've got to get the other team to want to sell him, but I think he wants to come.
"It basically comes down to whether the other team can find a superstar to replace him, because they don't have to sell."
Harris said the Arsenal board are ready to back Wenger to the hilt to bring in world-class players this summer, even if it means breaking the club record fee of £42.5million paid for Mesut Ozil two summers ago. Harris also insisted Arsenal are capable of signing any player in the world, barring the best two – Lionel Messi and Cristiano Ronaldo.
"Money was tight when we moved to the Emirates but it's a lot freer now," Harris added. "We could go into the market and probably buy any player in the world, apart from half a dozen who are un-buyable.
"In the accounts, there's over £200million in the bank. You could say to Arsene we've got no money and he wouldn't worry, or you could give him £100m and he might not spend it.
"At the moment there are no plans to sign anyone, unless he finds a real superstar like Mesut Ozil or Alexis Sanchez. He's looking for one of those but there aren't many available.
"We would back him to break the club's transfer record. If he wanted the man, he could have him.
"Apart from Messi and Ronaldo, he could have any player. We will probably have to break the club record to get the man he wants."
Benzema is seen as the man that Wenger wants to bring in before the summer transfer window shuts. Reports have suggested that Real Madrid were initially open to a sale, before deciding against letting the France international striker go.
Much will depend on how Rafa Benitez uses Benzema and if he can keep the 27-year-old happy at the Bernabeu for the upcoming season.
Other strikers to have been linked are Robert Lewandowski and Alexandre Lacazette, but getting Bayern Munich and Lyon to sell will prove to be quite difficult as well.
Either way, it does look like if Wenger does sign that world-class striker he covets, it is likely to happen towards the end of the transfer window, which means plenty more nail-biting "wonder what's going to happen" action for the Gooners in this summer transfer window.