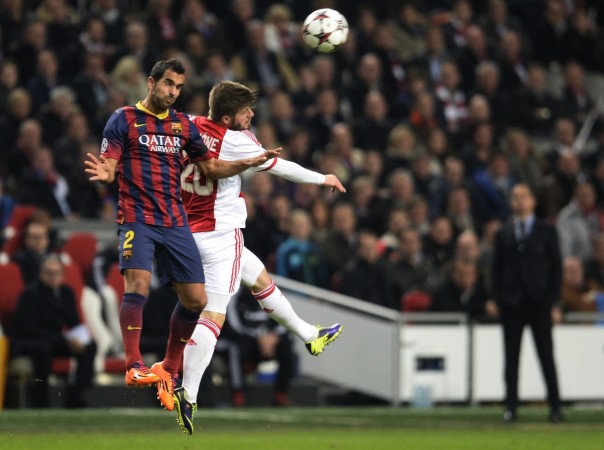 Arsenal and Liverpool's attempts to sign Martin Montoya have suffered a setback following reports of Juventus joining the race to sign the Barcelona right-back.
The 23-year-old Spaniard, who is desperately looking to make a move out the Nou Camp due to him not getting much first team football, was believed to be on his way to England in January, with Liverpool and Arsenal both reportedly interested in securing his signature.
While Liverpool are looking for a long-term replacement for Glen Johnson, who is expected to leave Anfield after the expiration of his contract in the summer, Arsenal are also in the market for a new defender to improve their performances at the back.
However, the Express now claims that Juventus, who had reportedly made inquiries about the right-back's availability in January, are looking to pip the two Premier League clubs to Montoya's signature in the winter transfer window.
Meanwhile, Montoya's agent Juan De Dios Carrasco said Barcelona should have no problems with the right-back wanting to leave in January as he is currently surplus to the requirement at the Nou Camp.
"When a Barcelona player like Montoya wants to leave, I do not think the club will protest," Carrasco told the Express.
The 23-year-old is currently Barcelona boss Louis Enrique's third choice right-back behind Dani Alves and Douglas. Due to this reason, Carrasco said his client does not want to stay at a club, where he is likely to get very limited first team opportunities.
"He wants to play but does not want to stay at Barcelona. The coach decides who plays, but if Martin does not play, then he wants to leave," he said
"It is not Montoya's problem or mine, not a problem for us. The decision is made, we are seeing how the situation and the decisions of Luis Enrique."
"Facts count for more than words: I do not intend to discuss who is to blame, the most important thing is that Martin wants to leave now. Tomorrow there will be a meeting with Barcelona to discuss a decision we have already taken."
Carrasco claimed that his client will leave Barcelona in January and make a move to either England, Italy or Germany, meaning that Arsenal and Liverpool are still not out of the running to land him in the winter transfer window.
"He will leave the club in January, there are clubs interested. In England, Italy and Germany," he added.