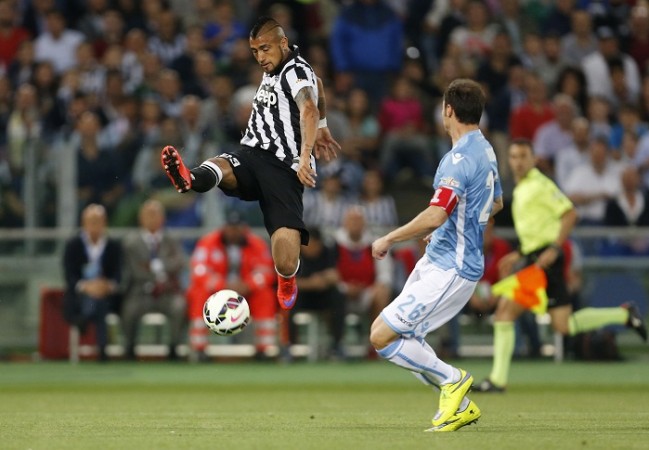 Arsenal will complete moves for Arturo Vidal and Jackson Martinez with the English Premier League club apparently agreeing deals with both the players and their clubs – Juventus and FC Porto – over a summer move.
Some reports suggest Martinez's move will be confirmed even before the Copa America, while Vidal will reportedly sign on the dotted line once his adventure with Chile is complete in the summer's continental tournament.
The man who was one of the first to reveal a move for Alexis Sanchez from Barcelona to Arsenal last summer – Hernan Feler, who works for DirecTV -- confirmed Vidal to Arsenal was a done deal, which certainly adds more credence to this possible blockbuster summer transfer.
Después de la Copa América de #Chile, se hará oficial la llegada de Arturo Vidal al #Arsenal. Está todo cerrado. Será compañero de Aléxis.

— Hernán Feler (@hfeler) May 23, 2015
Which, roughly translated, means: "After #Chile Copa America, the arrival of Arturo Vidal to #Arsenal will be made official," Feler tweeted. "Everything is done and agreed. Vidal will partner Alexis [at Arsenal]."
Vidal to Arsenal is certainly a mouthwatering prospect as it adds a physical dimension to the midfield. While Vidal is not a defensive midfielder by trade, he is capable of playing there when necessary, while also being adept at partnering someone like Francis Coquelin in the base of Arsenal's midfield.
The other player reportedly on his way to the Emirates is Jackson Martinez, with Portuguese newspaper Jornal di Noticias claiming an agreement has already been made over a summer transfer.
While a move for Vidal certainly makes sense, questions will be raised over Martinez's arrival, despite the brilliant goalscoring form of the Colombian during his time with FC Porto. Martinez has never made that step up to a big league before, and he is not exactly a spring chicken at 28.
With Olivier Giroud also the same age, it would make sense for Wenger to buy a younger striker, someone who can take over the mantle fully in a couple of years rather than buying someone who will cross 30 in a little over a year, the age when strikers normally start to go downhill.
Having said that, however, Martinez does have that ability to find goals with unerring accuracy, and if he can make a similar step up to the English Premier League, Arsenal will certainly improve with another 20-odd goals striker in their side.
FC Porto were asking for transfer fees crossing £30 million mark over the last couple of seasons for Martinez, and it remains to be seen what sort of figure will be agreed upon this season -- reports suggest Martinez has a £25 million releause clause. With Vidal also set to cost around £20-25 million, it certainly looks like being an interesting summer for Arsenal, even if both of these transfers turn out to be just "rumours."