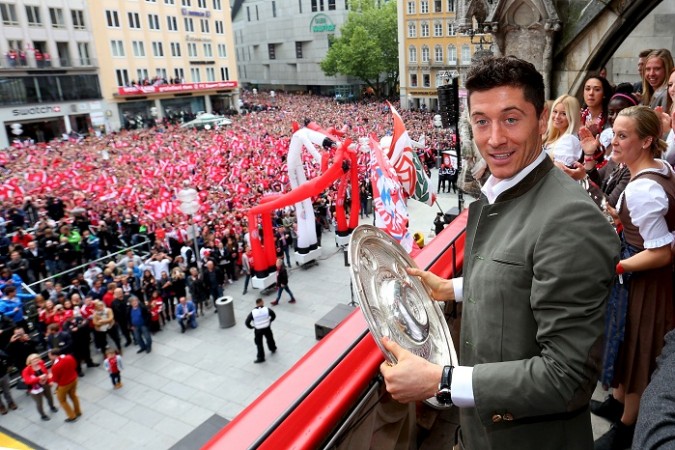 As the likes of Karim Benzema, Alexandre Lacazette and Gonzalo Higuain continue to be linked, the one striker that could make Arsenal the Premier League champions again is Robert Lewandowski of Bayern Munich.
There is a paucity of really good strikers in the transfer market at the moment, but one who is absolute class, and has seen his potency reduce a little by the move to Bayern, is Lewandowski.
The Poland international striker was linked with Manchester United quite heavily a while back, but Lewandowski eventually moved from Borussia Dortmund to their biggest title rivals Bayern Munich on a free transfer.
That seemed that as far as Lewandowski was concerned it was a closed door for any interested parties; because nobody moves from Bayern in their mid-20s, unless they are forced out, now do they.
However, while Lewandowski scored enough goals in his first season at Bayern, there was still a sense of something not being quite right. Lewandowski and Pep Guardiola do not exactly seem a match made in heaven.
That uneasy relationship has led to suggestions that Lewandowski could move on, with Manchester United, who need a striker after letting Radamel Falcao leave and selling Robin Van Persie, reportedly heading the queue.
"I think it would have to be a very high offer, definitely higher than €50 million [£35m]," Lewandowski's agent Cezary Kucharski told Polish TV.
"With a player of Robert's class, the truth is that not a lot of work is required because really there are only two directions in which he could go in the future, England or Spain, and only with Bayern Munich's acceptance."
Recent reports linked Manchester United with a £35million move for the striker, but another club who need to sign a player of Lewandowski's ilk are definitely Arsenal.
The Gunners will find it difficult to compete with Manchester United from a financial perspective for Lewandowski, if the striker is made available for sale by Bayern Munich, but Arsene Wenger might be able to work his charm on the player.
Lewandowski will be the final piece of the puzzle that Arsenal need to, not just contend for the title, but probably win it as well, as the striker guarantees goals, and will fit right into Wenger's lone central striker system.
"Robert is one of the most valued strikers on the market who guarantees goals, guarantees assists, excitement," Kucharsky added." He has shown that over many years during his career.
"Every year he is an even better player and plays at a higher level and that is very important for other clubs because he has credibility and guarantees at least 30 goals a season."
A guaranteed 30-goal a season striker and Arsenal should be able to, at the very least, come closer than they have come in over a decade, to the Premier League title, with progress beyond the last 16 thrown in as well.
"There must be a signal from the club, from Munich," Kucharsky said. "There is no such signal so we are not thinking about it, because even thinking about a change of club would be unfair in my opinion to the current employers.
"There is no reason, apart from money to be honest, to even think about it."
So, convincing Bayern to sell and then beating the likes of Manchester United to his signature, though, will prove to be difficult, and then some.