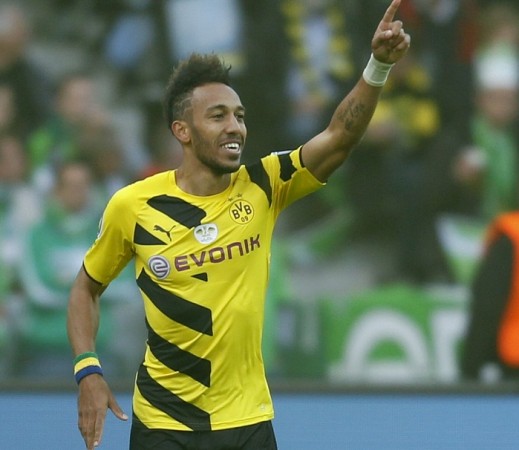 Arsenal have been linked with a move for Pierre-Emerick Aubameyang of Borussia Dortmund, with the Premier League side reportedly putting in a €40 million (£28.4 million) bid.
German publication Bild was the one to run the story first, but Borussia Dortmund sporting director nipped that particular transfer rumour in the bud by telling Kicker the Bundesliga club are "not interested in selling Aubameyang."
Such statements, however, are par for the course when it comes to any player of any club, and the denial never really means that Aubameyang will definitely stay a Dortmund player next season.
However, Arsenal are a side that really do not need a player like Aubameyang at the moment. Pace, extra pace, is always welcome for any side, but with Arsenal blessed with enough speed kings in their team at the moment, shelling out €40 million (£28.4 million) for another player whose primary asset is pace seems to make little sense.
What Arsenal need is a Giroud-like-but-can-also-play-with-him player, someone who can hold up the ball, link the playmakers with nifty touches and smash in the goals whenever on offer, be that via the head or the feet.
Aubameyang is certainly not that kind of player. The Gabon international is at his best when running at defenders or making those runs in behind. Arsenal have the likes of Theo Walcott, Danny Welbeck, Alex Oxlade-Chamberlain and Alexis Sanchez who can do just that.
With Walcott expected to be given more opportunities down the middle next season, Arsenal already have the alternative, pacy striker, who can take any advantage of space in between the defenders and the goalkeeper.
But, apart from Giroud, Arsenal really don't have a strong centre-forward, a No.9, who can lead the line pretty well. Welbeck is capable, but just not clinical enough in front of goal to be the man to lead Arsenal to a Premier League title.
Giroud has come on leaps and bounds since signing from Montpellier, improving every season, but Wenger could use another player, capable of working with and in place of the Frenchman.
The problem, however lies in the fact that there are very few such strikers available in the transfer market, and Wenger knows that as well as anyone.
However, going for Aubameyang, and that too at that reported price, seems extremely unlikely. Arsenal might as well go for a Gonzalo Higuain for that fee, even if Napoli have insisted the Argentine will cost £66million.
"Napoli are keen to clarify certain articles, published in some newspapers, about the departure of Higuain," Napoli said in a statement.
"The official clarification from Napoli is the following -- there is a clause in Gonzalo Higuain's contract. The clause is €94,736,000 million (£66m).
"There have been no bids. Anyone who wants the player will have to pay the club that amount."
Wenger certainly will not go that high for Higuain, but Napoli's hand might be forced if the player insists he wants to leave Naples this summer after the club failed to qualify for the Champions League.