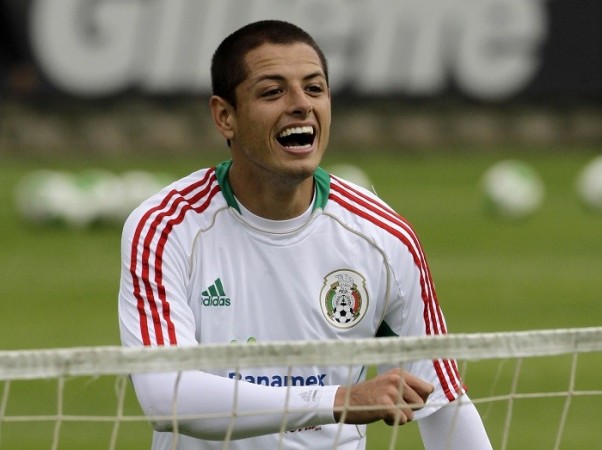 Javier Hernandez hinted at a possible exit from Manchester United, as the Mexican striker continues to be overlooked for a starting spot under David Moyes.
Hernandez has only made two starts all season under new manager Moyes, and there have been reports of a possible exit in the January transfer window.
Moyes has preferred Robin Van Persie, Wayne Rooney and Danny Welbeck to Hernandez, who scored the winner in the Capital One Cup third round against Liverpool.
Hernandez said he strives to be a starter soon, and will do so even if it has to be at a club other than United.
"I strive for that (to start more games)," Hernandez is quoted as saying by Metro. "I am working towards that -- earning a spot as a starter.
"I know that my performance on the pitch will allow me to achieve that goal someday either here (at Manchester United) or elsewhere for any other club.
"I am going on four years here (at United) and really, like I have always said, I am happy to be able to play for one of the best clubs in the world, doing my best every single day to earn more minutes on the pitch.
"I just need to be given more opportunities to showcase what I can do, because all of us want to be able to contribute our part so this team can win championships."
While those quotes are hardly an endorsement to leave, Hernandez is bound to get more and more frustrated the more he is left on the bench.
One club in the English Premier League that could be interested in Hernandez, and were linked with, both in the summer transfer window and last month, is Arsenal.
Arsene Wenger still wants a proven striker in his squad, as Olivier Giroud remains the only real option at the moment.
Real Madrid forward Karim Benzema has been the name most frequently linked with a move to Arsenal, but Wenger might turn his attentions towards Hernandez, if United prove to be willing to let go of the Mexican in January.
However, it will take some convincing to persuade United to sell Hernandez, who goes by the nickname of Chicharito, to a rival English Premier League club.
Wenger will most probably have to buy the striker at a premium, but, with Hernandez having bags of Premier League experience, the Arsenal manager might not be too averse to the option.