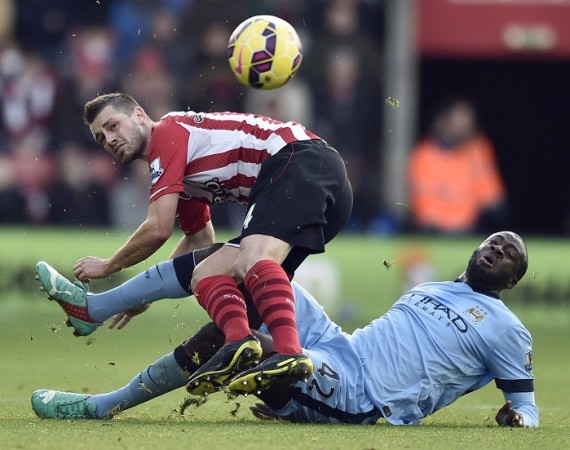 Arsenal and Tottenham Hotspur are reportedly on red alert, following news of Morgan Schneiderlin being reluctant to sign a new contract with Southampton.
The 25-year-old Frenchman, who signed for Southampton for a transfer fee of around £1.2 million in the summer of 2008, was very keen to team up with former boss Mauricio Pochettino at Tottenham Hotspur this summer.
But the Saints blocked his move to White Hart Lane, rejecting a £10 million offer from the Spurs.
This decision, in the end, turned out to be a very good one as Schneiderlin has been one of the main reasons behind Southampton's success in the Premier League this season.
Although the defensive midfielder's contract with Southampton only expires in 2017, the Saints are keen to extend the Frenchman's contract so that they can discourage his suitors.
But according to the Mirror, Schneiderlin, who is currently on the sidelines with a groin injury, is reportedly hesitant to sign the new deal that will reportedly see his £30,000 per-week double to £60,000 per-week.
And due to this reason, London sides Tottenham and Arsenal, who are both looking for a defensive midfielder, are keeping a close eye on Schneiderlin's situation as they look to lure him out of the Saint Mary's in the winter transfer window.
Meanwhile Newcastle boss Alan Pardew said he was shocked after seeing Arsenal fans boo and verbally abuse Gunners boss Arsene Wenger, following their recent 2-3 loss at Stoke City in the Premier League.
The 65-year-old Frenchman was boarding a train at Stoke City after his side's defeat to the Potters when a group of Arsenal fans booed and hurled abuses at him.
And Pardew, who has had his share of feuds with Wenger in the past, feels that the behaviour of those Gunners fans was very "disrespectful", insisting that the true fans will show how they adore Wenger.
"The incident at the train station was totally disrespectful," he told the Guardian. "I think 90% of Arsenal fans would have been ashamed of that and we could get the backlash of it. The crowd on Saturday will want to show how much they love him."