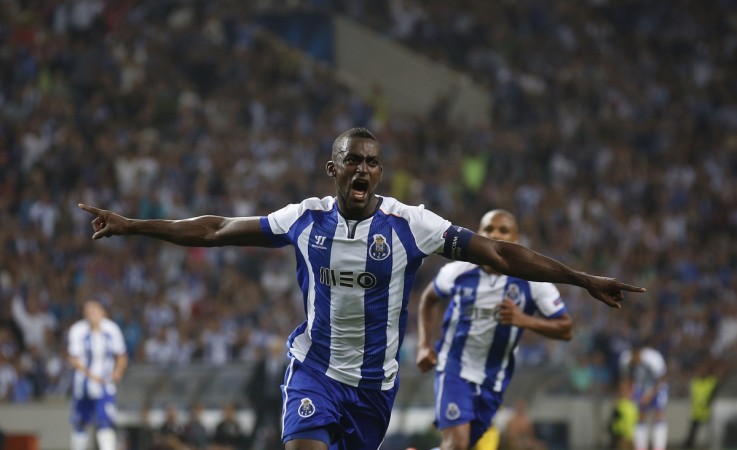 Arsenal are in the market for a quality striker and the club is even ready to let go some of their players in order to sign Porto striker Jackson Martinez.
Though the Gunners might have been decent, finishing third in the English Premier League last season, they can retain the title with some quality signings.
They have decent options upfront with Danny Welbeck and Olivier Giroud, but Arsenal will be a more powerful force with Martinez in their squad.
Gunners manager Arsene Wenger is ready to offload three players namely Lukas Podolski, Joel Campbell and Yaya Sonogo, reported The Mirror. All these players were sent to different clubs on loan during the winter transfer window.
Offloading Podolski, Campbell and Sonogo will provide Gunners enough funds to sign Martinez. Arsenal need to activate Martinez's release clause of £24.8m in order to initiate the transfer process.
If Arsenal manages to strike a deal with the Porto striker, it could work wonders for the north London club as Martinez has scored 92 goals in 132 games for the Portuguese club.
Apart from the club, he has been a huge asset for Colombia at the international arena, establishing him as one of the most feared strikers across Europe.
If the right offer comes through, it could be a wise move for Porto as the player is already 29 years old and has served the club for some decent years as well. With Alberto Bueno having signed for Porto, it seems that they are preparing for Martinez's departure.
Manchester United are also said to be interested in signing the Porto striker.
Meanwhile, the Gunners are also keeping a close tab on Karim Benzema as he might leave Real Madrid after the newly appointed manager hinted at playing Cristiano Ronaldo in central position.