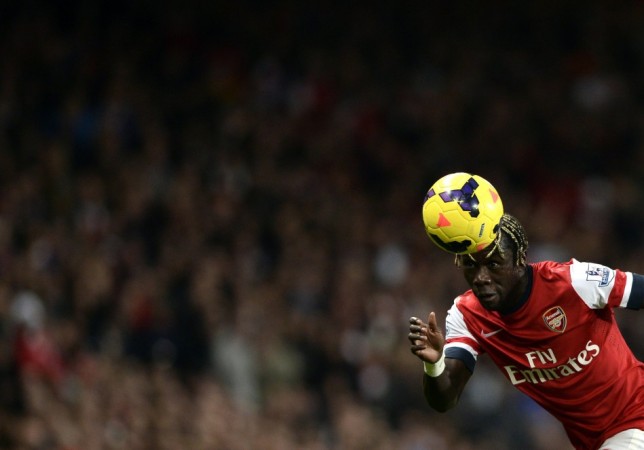 Arsenal are reportedly looking to sign Toulouse youngster Serge Aurier as a direct replacement for right-back Bacary Sagna, who is expected to leave the Emirates at the end of the season.
According to a report by the Mirror, Sagna will play his last game in a Gunners shirt against Hull City in the final of the FA Cup, after the north London outfit refused to fulfill his wage demands.
The 31-year-old, who is currently getting £60,000 per week, has been involved in lengthy contract negotiations with the Gunners, with the France international demanding a salary of £100,000 per week.
However, Arsenal are reportedly willing to offer him only a three year contract, worth £80,000 a week.
With Premier League Champions Manchester City, along with Galatasaray and Inter Milan, showing an interest in him, Sagna is expected to end his Emirates stay in less than a week's time.
Arsenal are, therefore, keen on making a make a move for Aurier as a replacement for Sagna.
The 21-year-old, who has already made seven senior appearances for Ivory Coast, is the perfect man for the Gunners as he is very versatile and is capable of playing in the full-back positions as well as in the heart of the defence.
Apart from his defensive duties, Aurier has also proved to be a very able attacker as he notched up six goals and six assists last season, and had more shots on goal than any player [except the strikers] at the Ligue 1 club.
Aurier is definitely a player Arsenal will want to sign as he possesses a lot of technical aptitude and athleticism. The youngster is also quite strong, a prerequisite for success in the Premier League.
Despite possessing a lot of attacking skills, Aurier does not neglect his defensive duties and is seldom caught out of position.
However, like many young defenders, Aurier does have a slight problem with his discipline as he is a robust player who likes to tackle hard. Nevertheless, he is still an evolving player and this small negative aspect should not be a problem for Arsene Wenger.
The Ivorian, who has a couple of years remaining in his current contract at Toulouse, would be available in the region of around £6-7 million, which is well within Arsenal's range.