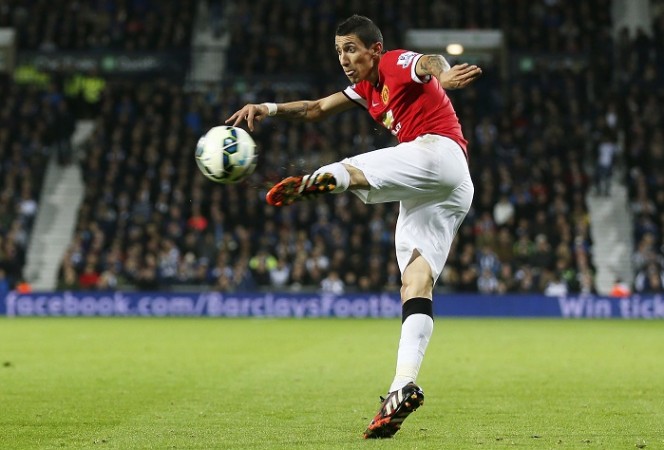 There were huge expectations from Argentina's Angel di Maria, when he was bought from Real Madrid by Manchester United manager Louis van Gaal for a mammoth £59.7 million in the summer transfer window last season. But Di Maria has failed to live up to the price tag and is expected subject to leave Old Trafford.
A number of clubs such as Paris Saint Germain, Barcelona and Bayern Munich have shown some interest in signing the prolific winger from Argentina. Add to that list of clubs, Arsenal, who are also keen on acquiring Di Maria, if available.
The Daily Mail reported that Arsenal manager Arsene Wenger might be interested in signing Di Maria, as his future at Manchester United remains unclear. With Maria warming the bench in the latter half of the season for the Red Devils, the Argentine might head over to a club, which offers him first-team football.
Arsenal might be able to give him that, but the golden question remains as to whether Manchester United are ready to let go of the player to a direct rival, who can challenge for the English Premier League title next season. Clubs seldom sell players to an immediate rival.
Apart from this, can Arsenal afford the high wage demands of Di Maria? The Argentine star's per-week wages stands at £280,000. Alexis Sanchez and Mesut Ozil are said to be the highest wage earners for Arsenal at around £140,000 each.
Though Di Maria might not have shone through in Manchester United colours, he is an incredible talent and had in fact justified his class in the first few matches for Manchester United last season, but in due course of time, he began to take a downward slide.
Recently, some crazy reports began to make rounds, where Bayern Munich were willing to sign Di Maria and were even ready to swap for two players Arjen Robben and Thomas Muller along with cash.
Louis van Gaal might dream of possessing a player of Robben's capability, but such rumours are going to be the order of the day until the transfer window comes to close.