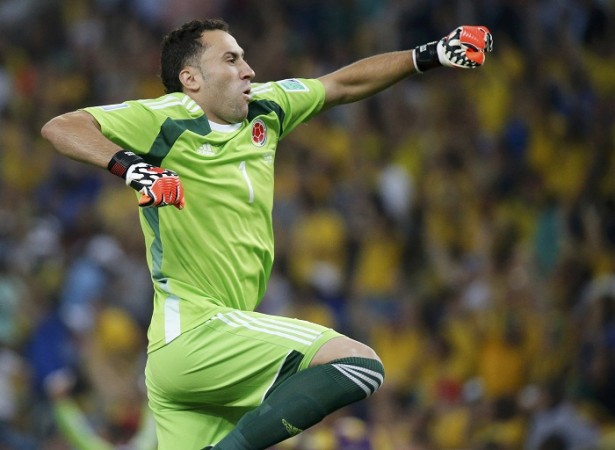 Arsenal have announced the signing of Colombian goalkeeper David Ospina from Nice, for a transfer fee understood to be just over £3 million.
"David Ospina will join Arsenal Football Club on a long-term contract for an undisclosed fee," read a statement on the club's official website.
The 25-year-old was very impressive in the 2014 World Cup as Colombia reached the final eight of the competition.
Arsenal manager Arsene Wenger, who had been looking to add a goalkeeper ever since the departure of Lukasz Fabiański to Swansea City on a free transfer last summer, expressed his delight at having secured Ospina's signature.
"David Ospina is an excellent goalkeeper, with good experience and a proven record of performing with Nice and Colombia. He will add strength to our squad and we are very pleased that he will be joining us," Wenger told the official website.
Ospina, who started his professional career at Colombian side Atletico Nacional, moved to Nice in 2008 as a replacement for Hugo Lloris, and went on to make 189 Ligue 1 appearances during his six-year stint in France.
Wenger also stated that Ospina, who has become Arsenal's third signing this summer after forward Alexis Sanchez (Barcelona) and right-back Mathieu Debuchy (Newcastle United), may replace the club's current no.1 Wojciech Szczesny, if he proves himself.
"You know at the start Szczensy will be the No.1, then again we'll be down to performances and, if Ospina shows that he is better, he will play," Wenger told ESPN.
Nice boss Claude Puel, who had confirmed the departure of the Colombian on Saturday, feels that the Gunners will bring out the best in the 25-year-old.
"It's a good affair for Arsenal because he's a very good player. You will see next season the quality of this player," Puel told Sky Sports News.
"It's fantastic for him. It's important for him to try another league, another club and Arsenal is a fantastic club for him. You saw in the World Cup how important a goalkeeper he is."
Meanwhile, Wenger feels the Gunners are finally on even footing with other big Premier League teams, having made some good additions this summer.
"We are now on an even ground with the other clubs than we were five or six years ago. We bought some good players like Alexis Sanchez who will give us different options," Wenger stressed.