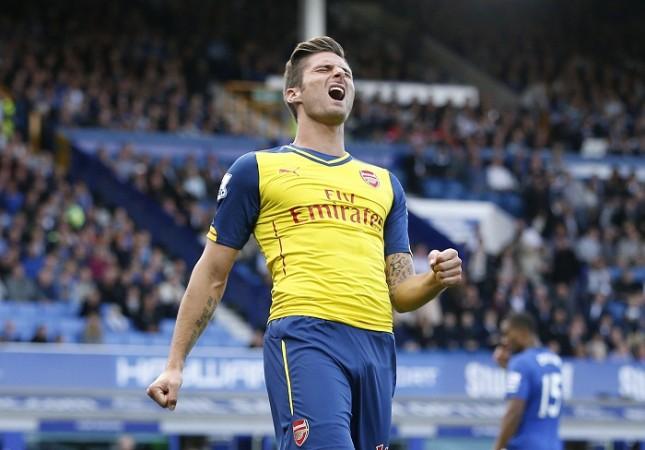 A couple of days after Arsene Wenger admitted he does not see the need for a new striker at Arsenal, the manager was dealt the one blow he would have been dreading – an injury to his premier striker Olivier Giroud.
According to the Independent, Giroud could have well suffered an ankle fracture, which, if confirmed, would rule the striker out for months.
That would be an absolute nightmare for Wenger, who does not have a true proven central striker to rely on in Giroud's absence.
The manager clearly has a lot of faith in Yaya Sanogo, but the youngster is still pretty raw and there is no way that he can be relied upon to lead the line for a sustained period, even if he has support in that position from the likes of Joel Campbell and Alexis Sanchez.
Sanchez did not have the greatest of games at centre-forward for Arsenal against Everton, and Wenger will be mindful of adding another striker to his ranks, if Giroud is indeed ruled out for more than a few days and Lukas Podolski is sold to either Wolfsburg or Juventus.
"We have Sanogo who will be an important asset, we have Giroud, we have Lukas Podolski, we have Joel Campbell who can play centre forward," Wenger told the club's official website when asked if he would sign a new striker.
"We have Alexis and [Theo] Walcott coming back. Let's not forget that.
"All of our opponents look for strikers as well and nobody finds a world-class striker available who is better than the strikers you have."
That last sentence is what probably points to the fact that Wenger has looked and continues to look for a potent striker, and if he can find someone, he just might make that signing after all, before the transfer window shuts on 1 September.
Below is a look at the possible targets for Wenger, if he does decide to dip into the transfer market for a striker.
Loic Remy: The QPR striker is the obvious choice – proven in the Premier League, versatile and someone Wenger is quite familiar with. Arsenal were heavily linked with the 27-year-old earlier in the summer transfer window, and with a release clause of just £8.5 million, he could turn out to be a bargain, even if he is not the dream striker signing that a lot of the Gooners will be hoping for.
Those dream signings (read Radamel Falcao or Edinson Cavani) could yet happen with Falcao, in particular, apparently available for a season-long loan, or maybe even sale. The Monaco striker is apparently not quite happy with his state of affairs in the principality and Monaco are open to letting go of the prolific Colombian.
However, Monaco are demanding a loan fee of around £12 million, which apparently put Liverpool off, with the striker's wages also a problem.
The other dream option is Cavani, who has been under the shadow of Zlatan Ibrahimovic (who wouldn't be?) ever since making his move to Paris Saint-Germain. An injury to Ibrahimovic put Cavani's possible exit in doubt, but with the Swede back in training already, the Uruguayan could yet be sold. However, at a price tag of £50-odd million, Wenger will not be overly keen.
Danny Welbeck: The Manchester United striker has reportedly been made available by the club and Welbeck was immediately linked with the two North London sides – Arsenal and Tottenham. While Welbeck is not exactly the best finishers in the Premier League, his pace and energy could prove to be useful. At £15 million, the fee should not be a problem.
Many might question the thought process behind paying so much money for a striker who does not even score one goal every three games, though, even if Welbeck has been played out of position on several occasions. Also it remains to be seen if United will be open to selling to Arsenal, if there is an interest.
Jackson Martinez: Another name that has been linked time and again to Arsenal, and another striker who might prove to be too expensive. Martinez, though, certainly knows where the back of the net is, and is a self-confessed Arsenal fan.