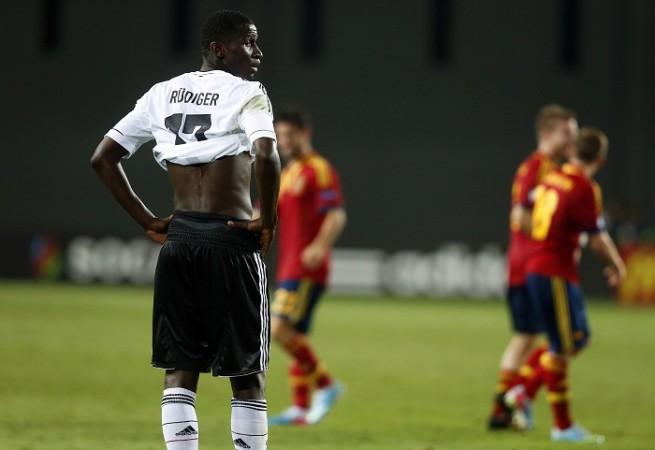 Arsenal manager Arsene Wenger might not have to do too much to persuade one of the most highly-rated young centre-backs in Europe to move to the Emirates, after Antonio Rudiger confessed his love for Arsenal.
The 21-year-old has impressed one and all with his performances for Stuttgart at the heart of the defence, with the Germany international heavily linked with a move to Chelsea.
The likes of Manchester United, FC Porto and Monaco have also been credited with an interest, but Rudiger has his heart set on a move to Arsenal, the club he supports.
"I have always dreamed of the Premier League," Rudiger told the Bild.
"I have been following Arsenal since the days of [Thierry] Henry and [Dennis] Bergkamp.
"I watch videos of Arsenal all the time on YouTube and I often wear the current Alexis Sanchez shirt.
"My heart beats for Arsenal."
There don't come any more obvious come and get me pleas than that and with Arsenal desperate for a central defender in their squad, Wenger should hesitate little to sign up the talented German.
Stuttgart manager Armin Veh understands the interest that has been coming from all quarters for Rudiger, but believes the player should only choose to leave the Bundesliga club if a really big team makes an offer.
"Antonio is under contract until June 2017 with our club," he told Sport-Bild. "The thing is how much longer can we keep hold of such a player?
"He is willing to learn, has power and self-confidence and the willpower he needs to succeed.
"I understand that big clubs are chasing him. But a move will only be considered for Antonio if he joins a really big outfit. Otherwise, it would be better for him to stay at our club."
There are very few clubs in Europe more in need of a centre-back than Arsenal at the moment, with Wenger forced to deploy left-back Nacho Monreal as a central defender due to an injury to Laurent Koscielny, and the fact that the manager failed to bring in an experienced defender in the summer transfer window.
Calum Chambers, Arsenal's third-choice centre-back, has been forced to play at right-back owing to a long-term injury to Mathieu Debuchy and Wenger admitted recently that he will look to strengthen his defence in the January transfer window.
"We have done remarkably well in the [summer] transfer window," Wenger said, during Arsenal's annual general meeting last week. "We tried to buy one more, a defender, but we didn't find one. But we will try to rectify that in January."