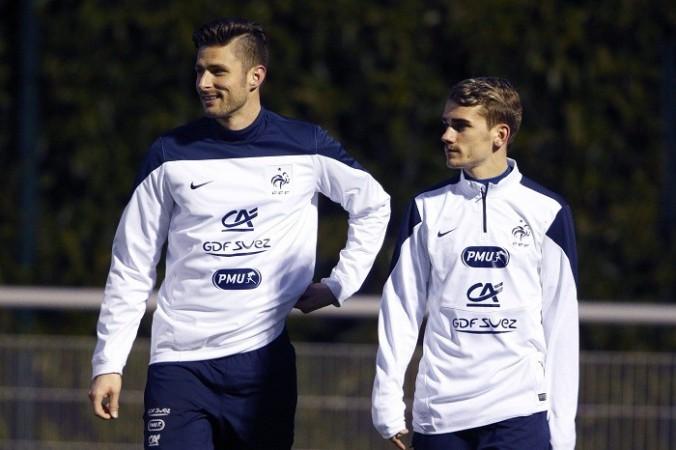 While a lot of the attention has been on whether Arsenal will make a bid for the likes of Karim Benzema, Jackson Martinez or even a Radamel Falcao, an exciting young forward could be on his way to the Emirates soon.
Antoine Griezmann is a player Arsenal have been linked with for quite a while now, with Arsene Wenger, not too long ago, admitting his liking for the Frenchman.
Arsenal have taken the first step towards locking in the Real Sociedad man by making an official bid, according to the Metro.
The offer is reportedly in the region of £18 million and Arsenal reportedly remain confident of completing the signing.
Griezmann is coming off a really good season for Sociedad, where he had 16 goals and three assists in the La Liga, and Wenger, the master at getting the best out of young players, will know the immense potential that exists in the winger.
Capable of playing across the forward line, Griezmann could be the answer to giving Olivier Giroud some much-needed support, with Wenger, on more than one occasion, admitting he was on the lookout for a player who could play with and without Giroud.
Arsenal, when Theo Walcott is injured, have lacked pace in their lineup, with Alex Oxlade-Chamberlain also having an injury-marred last season, and bringing in a few players with plenty of speed to burn will only add that extra dimension to the side.
Griezmann is quick, with an eye for goal, and should take to the pacy Premier League.
Arsenal, though, will face some competition for the 23-year-old, with Italian champions Juventus reportedly interested in the Sociedad player.
It remains to be seen if Juve, a lot tighter with the purse strings than Arsenal nowadays, will match the £18 million offer, and if so, which league and club Griezmann will prefer to join.
Being French, Wenger will undoubtedly have an upper hand in that department, and Griezmann could just be the second Sociedad player who moves to the Emirates in the summer.
Carlos Vela is another being heavily linked with a switch back to Arsenal, with Wenger apparently seriously considering activating the £3m buy-back clause inserted into the deal which saw the Mexican move to Sociedad.
Vela did not have a great first spell with Arsenal, sent out on loan on quite a few occasions, and unable to find a place in the first team when he was with the club; but the striker has definitely improved over the past couple of seasons.
The 25-year-old also has a great understanding with Griezmann, and bringing in the duo could prove to be astute business from Wenger, even if it is not the spectacular signings that a lot of the fans will be hoping for.