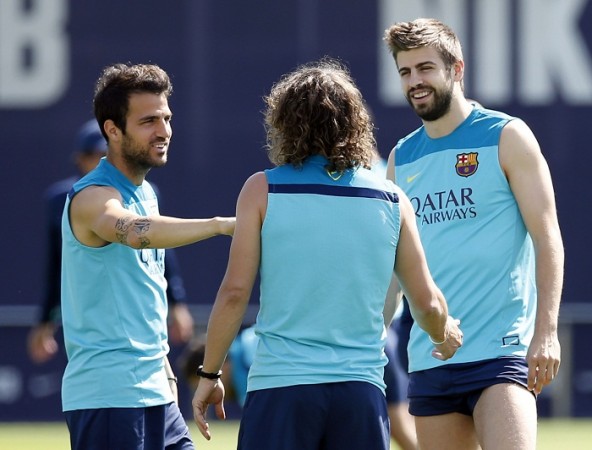 Cesc Fabregas, one of Arsenal's favourite sons, looks like he just might be leaving Barcelona after all with Gerard Pique reportedly confirming the news during a press conference – if you can take those comments at face value that is.
Pique was speaking to Spain coach Vicente Del Bosque ahead of a media conference, with microphones catching a conversation between the two where Pique seemed to confirm Fabregas' exit.
While sitting down to talk to the assembled media, Pique looked at Del Bosque, sitting next to him, and said he was going to "defend Cesc a bit."
Del Bosque was seen laughing at that remark, with Pique continuing to say: "He's told me it's already done. Yeah, he's gone, 33 million, he's told me."
What needs to be noted was the fact that along with Del Bosque, Pique, always available for a joke, was also sniggering throughout the conversation, making it quite possible, even likely, that the Barcelona defender was purposely having a little fun at the media's expense, knowing full well the amount of coverage such comments would receive.
Fabregas' future with Barcelona has been under scrutiny ever since the end of the season, with countless reports suggesting, Barcelona were reportedly willing to let the former Arsenal midfielder leave for the right price.
Assuming that Pique's "33 million" quote was euros, it does seem like an extremely low price for a player of Fabregas' standard, even if he is apparently no longer needed at Barcelona.
Barca would be crazy to let Fabregas leave for a price of just €33 million, a little under £27 million, considering the quality of the midfielder.
Reports, though, have said they are willing to let Fabregas go for around €37 million, which it must be said, is not too far from the €33 million quoted by Pique.
Arsenal reportedly have a buyback clause (or first option clause, depending on which report you read), with that clause set to be at around the £25 million mark. If Pique was not taking the mickey out of the press, then that price would suggest to a possible deal for Fabregas to return to Arsenal.
Arsene Wenger has always suggested he expects Fabregas to one day play for the Gunners again, and even if the Frenchman has an embarrassment of riches at his disposal in the midfield department, the lift that Fabregas will give, both in terms of quality and morale, to the players and the fans, will be huge.
Chelsea, though, have been reported to be the frontrunners for Fabregas' signature, even if recent reports suggest Jose Mourinho prefers Koke to the Barcelona man.
At the end of the day, it is all conjecture, with the likelihood being Pique having a laugh with Fabregas in the hotel room at Spain's training camp over the manner in which he sent the transfer stories (including this one) racing into overdrive with just a quote or two.