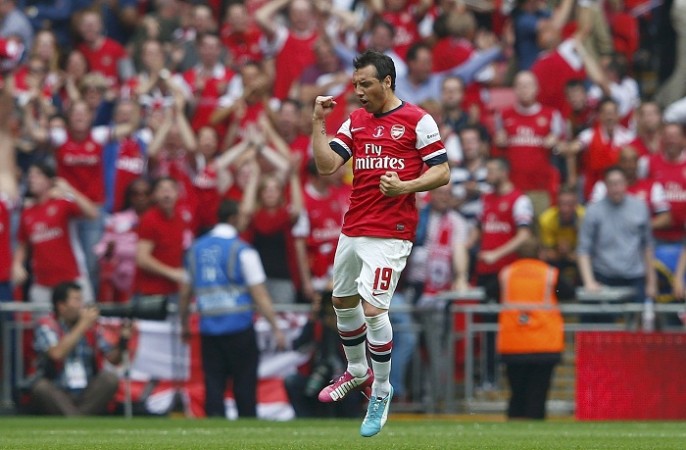 As the Cesc Fabregas "will he, won't he leave Barcelona" saga continues, one current Arsenal star and a former legend have given their views over what the former Gunner should do this summer.
Fabregas has been linked with a move back to the English Premier League this season, with Arsenal, Chelsea, Manchester City, Manchester United and Liverpool all thought to be interested.
Arsenal would be the natural club to return for Fabregas, who was one of the most popular players during his time in North London. However, reports suggest Arsene Wenger might decide not to make a move for his former captain, considering the embarrassment of riches at his disposal in midfield.
Arsenal playmaker and Fabregas' Spanish international teammate Santi Cazorla, though, would love to see Fabregas in the red and white shirt again.
"I've read that he could go to Chelsea but I'd prefer him to come to Arsenal because he's a great player and they really love him there," Cazorla said.
"I don't know what his future is, but I hope that he will be happy and enjoys the team wherever he is."
Barcelona manager Luis Enrique has apparently given his go-ahead to sell Fabregas as the Spanish giants look to put in a big bid for Atletico Madrid midfielder Koke. Fabregas' form has been under heavy scrutiny ever since returning to his boyhood club in the summer of 2011 from Arsenal, but Cazorla does not think the midfielder's performances have tailed-off in Spain.
"I don't think there's a big difference between Cesc's performances in the Premier League and La Liga. He's adapted perfectly to both leagues," Cazorla added.
"His statistics are great at Barcelona but he's not valued the same as in England. There's no difference in his numbers."
Meanwhile, Arsenal's all-time leading goalscorer Thierry Henry has backed Fabregas to make the right decision on his future, be that with a return to the Premier League or by sticking with Barca.
Henry, who like Fabregas moved from Arsenal to Barcelona, also admitted he is not surprised at the amount of interest being generated from clubs at the slight mention of Fabregas' availability, while insisting he has no clue as to what his former teammate will do.
"Cesc is strong, I saw him coming up at Arsenal at just 16-years-old, playing with us with no fear," Henry told Sky Sports News.
"He did it before so I don't think it will be a problem. If your name is Cesc Fabregas you obviously are going to have some teams coming for you.
"I don't know if he is going to leave Barcelona but I am just saying if you are that type of player, and especially what he has done in the past in England, it's obvious they are going to come for him but I don't know what he is going to do."