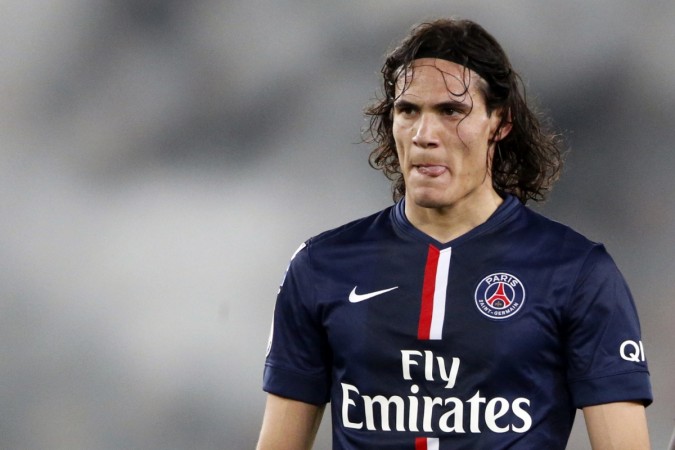 Uruguayan striker Edinson Cavani is reportedly thinking of asking his current club, Paris Saint-Germain, to reduce their £50 million asking price so he can complete a move to Arsenal in the winter transfer window.
The 27-year-old striker was heavily linked with a move to the Premier League this summer, with the likes of Arsenal, Liverpool, Manchester City and Chelsea reportedly all being credited with an interest.
However, the Uruguayan, who moved from Napoli to PSG for a fee believed to be about €64.5 million, opted to remain in Paris, insisting that he was happy at the Parc des Princes.
Although Cavani still insists that he is happy at PSG, it is believed that he is, in fact, desperate to make a move out of the Parc des Princes.
And according to the Express, Arsenal, who are looking to get world class striker to lead their attack, are reportedly back in the hunt.
Liverpool, who are still searching for Luis Suarez's replacement, also remain in the hunt, but it is believed that Cavani is more favourable with a move to Arsenal as he reportedly wants to live in London.
However, as Arsene Wenger first priority in January is to buy a new defensive midfielder and a defender, he may not be willing to match PSG's £50 million price tag for Cavani.
Due to this reason, it is believed that Cavani is looking to convince PSG to reduce their asking price for him.
Meanwhile, three La Liga sides including defending champions Atletico Madrid are reportedly on red alert following news of Santi Cazorla wanting to make a move out of Arsenal this summer.
The 29-year-old playmaker, who arrived at Arsenal from Malaga for a transfer fee of £15million in the summer of 2012, is reportedly frustrated with Arsenal's inability to win much silverware.
Also, Cazorla is currently facing a lot of competition from the likes of Mesut Ozil, Alexis Sanchez, Aaron Ramsey, Jack Wilshere and Alex Oxlade-Chamberlain for a place in Arsenal's starting line-up.
Due to these reasons the Spaniard is expected to leave the Gunners after the expiration of his contract this summer.
And, according to the Daily Star, Atletico Madrid are currently leading the race to snap up the Spanish playmaker on a free transfer.