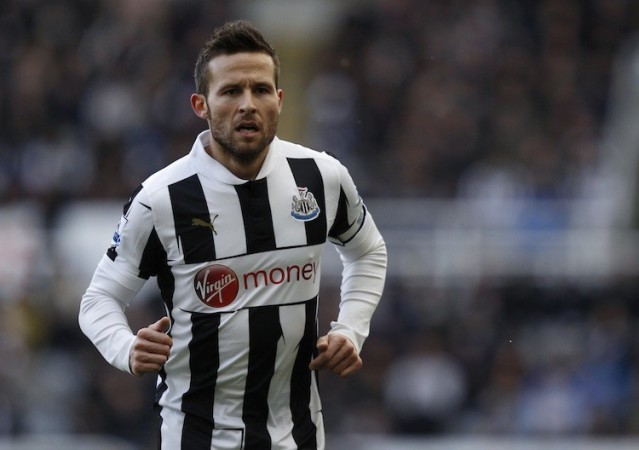 Newcastle midfielder Yohan Cabaye has laid the blame on his summer move to Arsenal collapsing firmly on Newcastle director of football Joe Kinnear.
Arsenal had a bid rejected for the French midfielder, with Cabaye refusing to play for Newcastle in a bid to force through a move to the club.
However, a move did not materialise and Cabaye believes the blame rests on one man -- Kinnear.
"The only person who can explain what happened is Joe Kinnear," Cabaye was quoted as saying by the Daily Mail. "If he is honest, he will tell it. Otherwise it will not get out of my mouth.
"Was my failed transfer to Arsenal difficult to swallow? At first, yes. But you have to quickly get focused again, because if you go on thinking about it you have a grudge against a lot of people and that is useless. I quickly forget about it and go back to work."
Arsenal were looking for a deep-lying playmaker to fill the void left by the injured Mikel Arteta at that point, but Arsene Wenger will be pretty OK having missed out on Cabaye, considering the embarrassment of riches at his disposal at the moment.
Mathieu Flamini has begun the season in magnificent form, while the likes of Aaron Ramsey, Jack Wilshere, and the recently-returned Arteta have all shown their worth to the manager in a season which is shaping up to be a big one for the Gunners.
However, that failed bid for Cabaye and the response from the player did leave the Newcastle midfielder a bit in limbo, with sections of the St. James' Park crowd even booing the Frenchman.
"The fans' state of mind was due to what the club wanted to let them know," Cabaye told Sky Sports.
"As I didn't talk and I won't give any explanation about what happened, they chose their side. That is part of a career, but I bear no grudge against no one. I accept it, it is in the past."
Cabaye also had some praise for another player who has been linked with Arsenal in the past - Loic Remy - after the on-loan QPR forward's explosive start to his Newcastle career, which has seen him score return to the French national team squad.
"He's scored important goals -- twice again (on Saturday) -- and he helped us to win the game, so of course he deserves to be in the France squad," Cabaye added.
"For me, it's fantastic because I love to play forward and with him. It's so easy because he's quick. He can move very fast and very cleverly, so it's very, very important for us. He gives us another way to play."