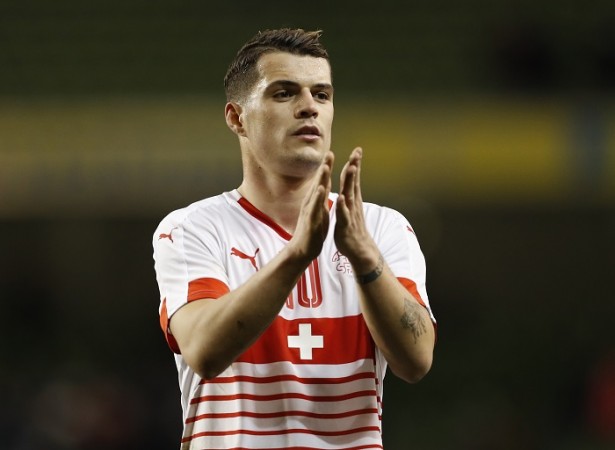 Manchester United's loss to West Ham on Tuesday means Arsenal are assured of a top four place in the Premier League. A draw against Aston Villa on the final day of the Premier League season will guarantee them third place and a straight path into the Champions League group stages, and as a result, Arsene Wenger is already making plans for next season.
Midfield is going to be one of the areas to strengthen, considering Mathieu Flamini, Tomas Rosicky and Mikel Arteta are all expected to leave at the end of their contracts this summer. With Jack Wilshere injury prone and Aaron Ramsey and Santi Cazorla not exactly having the greatest of injury records either, Wenger is expected to bring in a body or two in the summer, with the main target in that department being Granit Xhaka of Borussia Monchengladbach.
Xhaka has been linked with a move to Arsenal for a while, and now the Premier League club are reportedly close to completing a deal after entering into talks with Monchengladbach over a fee.
According to the Telegraph, that fee will be somewhere in the region of £30 million, while Rheinische Post, the regional newspaper of the area where the German club is at, believe the Gunners will pay around €43 million (£33.8 million), with either amount set to become the highest Arsenal have ever paid for a midfielder
The fact that a local newspaper is reporting on the transfer, with that report saying a deal is close, suggests Arsenal could be on the verge of completing this much-required move.
Xhaka has been exceptional in midfield for Borussia Monchengladbach, playing the holding midfield role to perfection, while the 23-year-old also has the ability to spray the passes forward. Arsenal bought a midfielder in Mohamed Elneny in January, and Xhaka will only add the Wenger's options in that central position, if the transfer is completed.
Having suffered a disappointing season, where their hopes of winning the Premier League crashed in a hurry, while they were also knocked out of all the cup competitions, Arsenal are expected to make a few signings in the summer, unlike the last one, when Wenger failed to sign a single outfield player, with goalkeeper Petr Cech being the only one to come in.
Arsenal desperately need a striker who can guarantee the team 20-30 goals a season, while a centre-back might also be required following some suspect defending from the likes of Gabriel and Per Mertesacker.