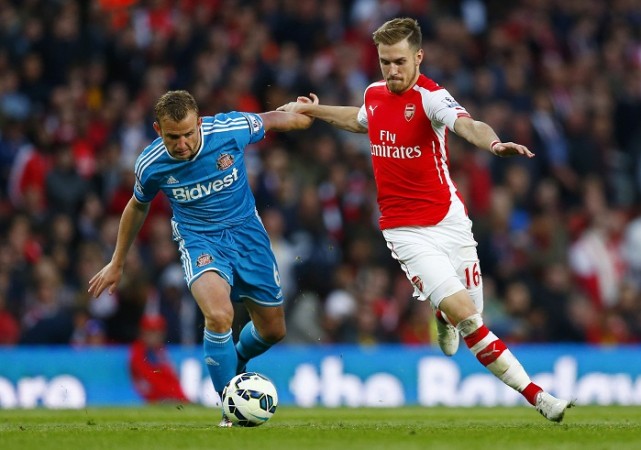 Barcelona have made a bit of a habit of handpicking Arsenal players pretty much every summer that goes by. While not all of them have been exactly hits after moving to the Camp Nou, it hasn't prevented the La Liga champions from whipping out that cheque book and writing large amounts in order to sign a player from the Emirates.
It never is a summer transfer window without an Arsenal player being linked or eventually signing for Barcelona, and the latest name to do the rounds is Aaron Ramsey.
According to The Sun, Barcelona manager Luis Enrique has identified Ramsey as the man he wants in his midfield, especially after it was confirmed that Xavi Hernandez will be leaving the club. Barcelona have reportedly scouted Ramsey ten times already this season.
While Ramsey is not a similar player to Xavi, the report says Enrique see the Welshman as the perfect addition to add a bit more goals from midfield for Barcelona.
In order to push through the transfer, Barcelona are prepared to pay as much as £50 million to make Ramsey their man.
However, two particularly large problems arise from this proposed transfer. One, Barcelona are under a transfer embargo, meaning they cannot sign any player during the entire calendar year of 2015. The report says Barca are hopeful of finding a way around the ban for this summer, despite already losing their appeal.
The second problem lies in the fact that this is not the same Arsenal who must sell if they receive a big bid. While Wenger might struggle to keep a player if he has already made his mind up to join another team – and Barcelona are the kind that most players find difficult to reject – the Arsenal manager has no requirement to accept any bid, even if it is as much as £50 million.
Ramsey has been and is a pivotal part of the Arsenal squad, and it is extremely unlikely that Wenger will give his nod for the sale.
While the 24-year-old has not had as terrific a season as the one last campaign, he has shown signs of slowly coming back into form, even if he has been played out of position in recent weeks.
With Wenger finally looking like assembling a squad capable of competing for the English Premier League title, the last thing the Frenchman will want is to lose one of his best players.