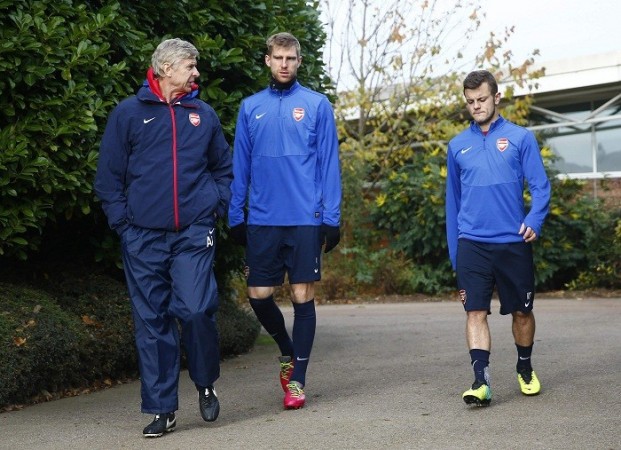 Arsenal manager Arsene Wenger was quick to deny links with strikers Alexandre Pato and Alvaro Morata, as reports continued to swirl regarding a move for the Corinthians and Real Madrid players during the January transfer window.
The Gunners are thought to be extremely keen on bringing in a potent centre-forward in order to help out Olivier Giroud, who has carried the burden of leading the line pretty much on his own - quite well, it must be said.
The likes of Karim Benzema and Luis Suarez are the big names that have been mentioned, but reports earlier this week zeroed-in on Morata and Pato, with some even suggesting a deal for the two was as good as done.
However, Wenger played down those suggestions, instead pointing out at the fact that Yaya Sanogo, summer signing on a free transfer, would return from injury by January and therefore would provide the necessary cover for Giroud.
"There is no truth in that. That is all I can say, I have not been in touch with them," Wenger said. "We have at the moment Yaya Sanogo who is a striker we brought in during the summer and who is coming back from injury in January so hopefully he will help us in the second part of the season."
Those comments of course needed to be taken with a pinch of salt, because Wenger is the last person who will confirm interest in a player. It is still likely that the Arsenal manager will bring in a fresh face, but much will depend on if he can sign his desired target during a notoriously difficult time that is the January transfer window.
Meanwhile, Morata also played down the links with Arsenal, insisting his only concern was making his mark at Real Madrid. "I only think about succeeding at Real Madrid," he told AS. "Every day I work hard to earn myself a place in the team, but I know that I have had the support of [manager Carlo] Ancelotti since the first day that he came here.
"To [former Real Madrid coach] Jose Mourinho I owe a great deal for promoting me up to the first team and I will always have a special feeling towards him. He is an incredible coach."
Morata, who was tipped to complete a loan move to the English Premier League next month, idolises Real legend Raul and wants to emulate the great striker, with the 21-year-old also reserving special praise for current teammates Cristiano Ronaldo, Karim Benzema and Gareth Bale.
"Raul has always been a hero to me," Morata added. "He is considered to be the best player in the history of Real Madrid and Spanish football.
"Cristiano is also a great player, out of this world, the complete player, the best. Benzema is impressive also and I can learn a lot from him.
"Also, Bale is now showing what he can do and is one of the best players in the world and he was a great signing."