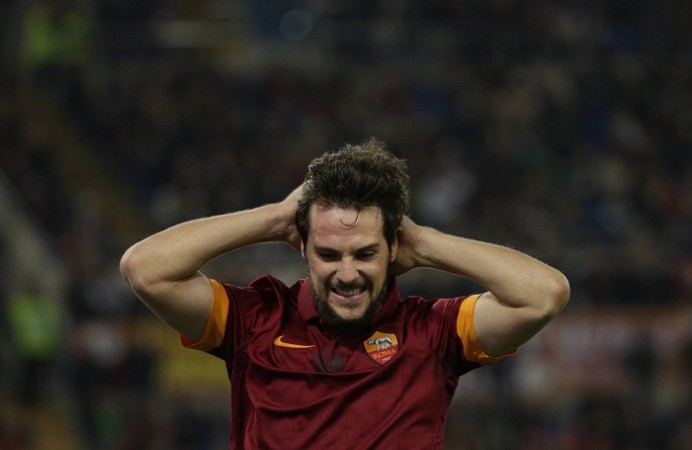 Arsenal are reportedly closing in on a transfer for Mattia Destro, with the Roma striker's agent set to fly in to London this week for talks over a potential move in the January transfer window.
Arsene Wenger and his Arsenal side are still reeling from the awful loss to Stoke City over the weekend, when they conceded three goals to the home side before seeing their comeback fall short by a goal.
Arsenal have looked far too fragile at the back for anybody's comfort this season, and Wenger, even if he has had injury problems, seems unable to rectify the problem.
It looked like the defensive issues were sorted, at least for now, following three straight clean sheets, but the soft underbelly of the Arsenal defence was roundly exposed by a direct Stoke City side, who put in the crosses and let their strikers do the rest.
During the aftermath of another pathetic defensive performance, the last thing that Arsenal fans will probably want to hear about is a proposed deal for another striker, but, according to the Sun, that is precisely what is being discussed.
The report says Destro's agent will be at Arsenal this week, with Wenger reportedly keen to sign the 23-year-old striker for what might be as much as £20 million.
While Destro is undoubtedly a talent, the last thing that Arsenal require at the moment is a striker.
The Gunners desperately need a strong centre-back in the January transfer window, while an equally strong defensive midfielder will also help matters considerably.
Ipswich Town's Tyrone Mings, a fullback with potential to be converted into a centre-back, has been heavily linked with a move to Arsenal, with Wenger even admitting the club are following his progress, while William Carvalho and Morgan Schneiderlin are the names most talked about for the defensive midfield position.
But then, Wenger does have the penchant for buying attackers, attackers and more attackers, with Destro the latest to catch the manager's fancy, according to the report.
Destro is definitely a player with tremendous potential, but if Arsenal are indeed going to buy a striker – and Arsenal have struggled in front of goal this season, despite the embarrassment of attacking riches – they might as well go for broke and try and sign someone like Edinson Cavani, who is more likely to make an immediate impact with goals than Destro.