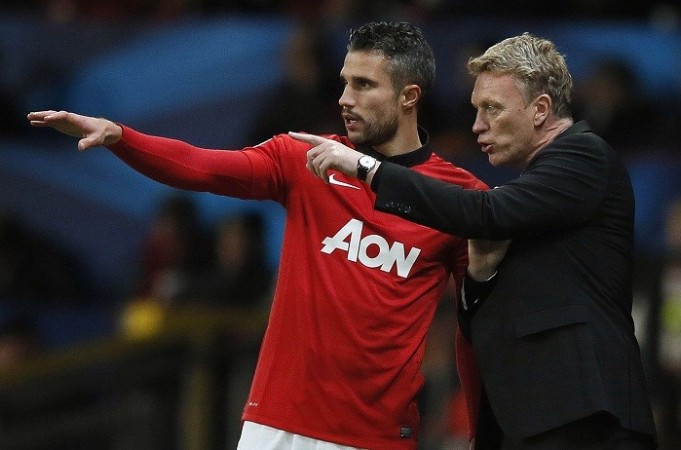 Robin Van Persie would have never moved to Manchester United if he knew about Sir Alex Ferguson's impending retirement, but leaving Arsenal was the only option if he was to win trophies, according to the Dutch striker's former coach Raymond Verheijen.
Van Persie, in a manner, justified his controversial move to Manchester United in the summer of 2012 by going on and winning the English Premier League title that season. However, those heady heights have been followed by woeful lows, with David Moyes, Ferguson's replacement, struggling to fill his illustrious fellow Scot's shoes.
Verheijen, speaking to FourFourTwo, believes Van Persie now regrets his move to Old Trafford from Arsenal, with the Dutchman perhaps wondering what might have been had he decided to switch to a different club, possibly one outside the Premier League.
"Robin isn't stupid, he knows exactly how late (in his career) it is," Verheijen, who was the Netherlands coach during the 2006 and 2014 World Cups, said. "For years he was at Arsenal winning nothing, and then he made the move to Man United so at least he could win some things in his career because he was already in his late 20s.
"He had a lot of loyalty to Arsenal and it was difficult for him -- it was a painful move. Ideally he would have finished his career at Arsenal winning some trophies.
"He knew that was not going to happen, so he had to make that move. He made a painful, but brilliant move. He had a very successful first year, wins the title and then thinks 'let's go for the Champions League now.'
"Then, all of a sudden, Ferguson retires. How do you think he felt? If he had known that was going to happen he still would have left Arsenal, because staying there would mean zero trophies.
"He would definitely have moved but would have more than likely gone to Barcelona or Bayern Munich."
Van Persie did have interest from other clubs, but Bayern Munich and Barcelona were not the ones to give the Dutchman a lot of attention, with Juventus and Manchester City thought to be the more interested suitors.
In fact, City offered Van Persie more money, and would have had no issues matching the transfer pee paid by United to Arsenal, while Juventus, according to Arsene Wenger, looked to take the striker on the cheap.
Ferguson was a big factor in Van Persie's decision to move to United, and so was first-team coach Rene Meulensteen, with both now out of the picture at Old Trafford.
Former Dutch international Ronald De Boer also feels Van Persie might look to leave the club if the situation doesn't change. "Man United need to refresh their squad," De Boer, brother of Ajax manager Frank, told Talksport. "Some of their players have had fantastic careers but it's time to move over and let some youngsters come through.
"Robin feels that, if this is happening, he will of course stay. But, if there's no investment in new, young, great players from other clubs, then he will move."
There have been plenty of murmurs of Van Persie's growing discontent at United, with one report suggesting Moyes is losing faith in the Dutchman, who recently criticised his teammates after their 2-0 Champions League loss to Olympiakos.
Van Persie's possible return to Arsenal next season have been played down, with the North London club looking in a stronger position at the moment - but if that were to happen, it would be a serious ironic twist, but one not too many Gooners might be on board with.