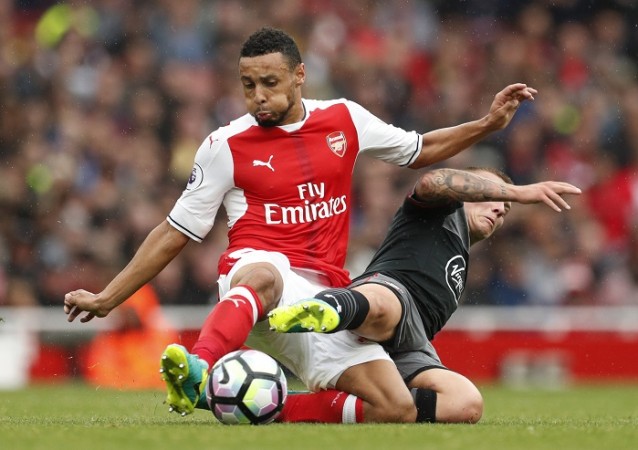 Arsenal have no fresh injury worries, but Arsene Wenger will, again, have to do without Aaron Ramsey and Olivier Giroud. Arsenal return to Premier League action with a home match against Swansea City at the Emirates Stadium on Saturday.
Having won five Premier League games in a row, the pressure is on Arsenal to continue that solid form, against a team that have caused them quite a few problems in the recent past. The Gunners, though, have been playing some outstanding football, and while their last win might have been a little fortuitous, they will look to find that attacking rhythm early.
Two players who will not be there to help them do that will be Ramsey, out since the opening game of the season, and Giroud. Francis Coquelin, the midfielder, who suffered a knee injury in the 3-0 win over Chelsea late last month, however, is back in contention.
"Giroud will not be available for Saturday and Aaron Ramsey will not be available, but Francis Coquelin is back available and apparently we have good news. I have not seen everybody coming back from international games but we have quite good news," Wenger told reporters.
Asked if Ramsey will be back for next week's match, Wenger sounded doubtful again, with Arsenal keen on giving the midfielder as much time as possible to recover from his latest hamstring problem. With the Gunners flush with options in midfield, that is a luxury Wenger can afford at the moment.
"Next week will come too early," Wenger added. "I must say I'm disappointed because he has worked very hard. He's at the last stage of building up his fitness and he's not far away.
"It's a bit of a vicious circle. He had a little setback, so we rested him. The longer that lasts, the more time you have to dedicate to build up his fitness again because he has been out for four weeks.
"Then you have to basically create a new three-week preparation to get him up to the level he was at before the injury. It's more the time it takes to rebuild his fitness. We have decided that we'll give him a complete pre-season, even if he misses one or two more games."
Wenger also revealed that he has been informed Mesut Ozil, who was substituted at halftime during Germany's 2-0 World Cup qualifying win over Northern Ireland, is also fine to play against Swansea.
"He told us he's completely fit," Wenger said. "We'll see that today, if we have no bad news today. I see him later. I expect him to be available, especially because he's only played one half, so he doesn't need to be rested on Saturday."
Per Mertesacker and Danny Welbeck are long-term injury victims while Carl Jenkinson, back in training after a cruciate ligament problem, will play in the U-23 game this week, before returning to first team action.