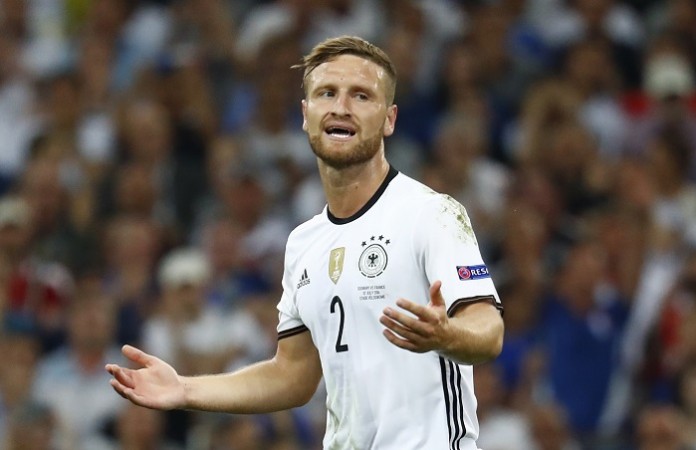 Arsenal are ready to switch to a cheaper alternative to Shkodran Mustafi, in order to keep enough in the bank for a big-name striker. Arsene Wenger is under extra pressure to strengthen his squad after the Gunners were beaten by Liverpool on the opening weekend of the Premier League.
The Mustafi deal was thought to be close to completion, with Arsenal reportedly also agreeing personal terms with the Germany international, but with Valencia holding out for a minimum of £25 million, Wenger is having second thoughts over the move, as paying that amount could hamper the club's chances of landing the striker they need in order to challenge for the title.
That is according to BBC reporter David Ornstein, who seems to usually get most of his transfer news right. Ornstein believes Arsenal have already looked at alternatives to Mustafi, with Omer Toprak of Bayer Leverkusen and Simon Kjaer of Fernerbahce under consideration. Mustafi remains the first choice for Arsenal, with the player also keen on a move, but Wenger and the board are reluctant to match Valencia's asking price.
Whichever defender Wenger brings in, he needs to do it quickly, because the folly of not signing a centre-back as soon as Per Mertesacker was injured was witnessed in the 4-3 defeat to Liverpool, when Calum Chambers and Rob Holding, 21 and 20 respectively, failed to cope with the pressure of a massive game in the Premier League.
Arsenal next play champions Leicester City, who will be desperate for three points after their opening game loss to Hull City, next weekend, and the ideal scenario would be having someone in much before that match comes calling.
Knowing Wenger, though, signing a defender and/or a striker is likely to come in right at the end of the transfer window, which closes on Aug.31. At least the striker signing is expected to be made really late, with Arsenal considering their options up front.
While the Gunners scored three goals in their opening match, they struggled in the first half, which they dominated, to create openings, with Alexis Sanchez struggling in the lone centre-forward role.
If Wenger has plans of playing a more mobile centre-forward than Olivier Giroud through the middle, then Arsenal will need to be ready to pay out a tidy sum. Alexandre Lacazette remains under consideration, with the France international, while admitting he is happy to stay at Lyon, saying he could leave if a tempting offer is made.
"I'm very comfortable at Lyon," Lacazette was quoted as saying by the Daily Mirror after scoring a hat-trick in Lyon's opening weekend win. "The proof was there that I was in the right state of mind. For me all is well.
"(But), if there are offers that can't be refused, I'd like to not refuse them."