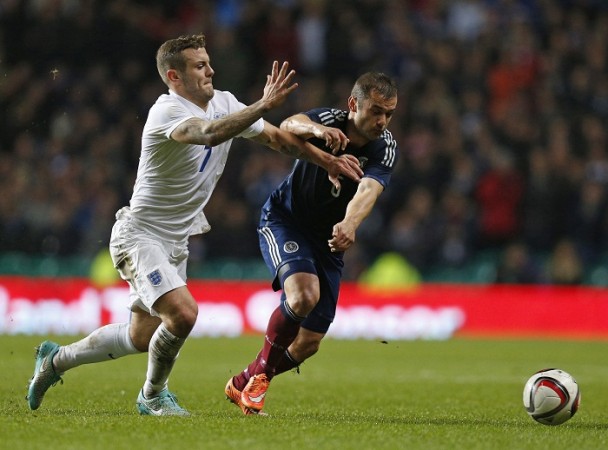 Arsenal midfielder Jack Wilshere believes he could be the deep-lying midfielder that Arsenal so desperately crave after putting in a few impressive performances for England in that position.
The Gunners are thought to be in the market for a defensive midfielder in the January transfer window, after being found out time and again on the counter-attack by their opponents.
Despite the obvious problems in Arsenal's midfield – the fact that they do not have a true defensive enforcer who will sit there and mop up everything while keeping the play moving when on the ball with short passes – Wenger has been reluctant to invest in a true defensive midfielder.
Mikel Arteta might not be as bad as his critics point him out to be – in fact, Arteta has been missed by Arsenal during his injury-enforced absence this season, conceding goals they might have not conceded if he was there – but the Spaniard is definitely not the long-term solution for the club, and he does have the tendency to be found out on the counter-attack against high-quality teams due to his lack of pace.
Mathieu Flamini is the other option for Wenger, and while the Frenchman is a tenacious midfielder, he does have the habit of wandering off unnecessarily from his position, while making himself a red card candidate with rash tackles as well.
Wilshere has done himself proud with his performances for England in the deep midfield role under Roy Hodgson, and the Arsenal man believes he can do the same for his club as well, even if Wenger is a fan of the 22-year-old's attacking qualities.
"I wouldn't mind playing there for Arsenal," Wilshere was quoted as saying by the Daily Mail after starring in England's games against Slovenia and Scotland. "I've already spoken to the manager about it and he doesn't see me playing that holding role just yet. That's his decision.
"At the moment Mikel Arteta is injured and Mathieu Flamini is playing that role. It's down to him.
"This is probably the best I've played for England and I'm enjoying it. I said after the first game against Switzerland that I'd only get better. It was my first game in that role.
"The main thing is the coaches are getting their points across."
While Wilshere can perform a commendable role in that position against lesser opposition, Arsenal will be picked off again if Wenger leaves the midfielder as the lone defensive screener against bigger teams.
Wilshere, though, can flourish in a deeper position if he has a good solid midfielder, who can also read the game well and make tackles (read William Carvalho, Morgan Schneiderlin, Las Bender) alongside him for company.
It now remains to be seen if Wenger deems it necessary to bring in such a player in the January transfer window.