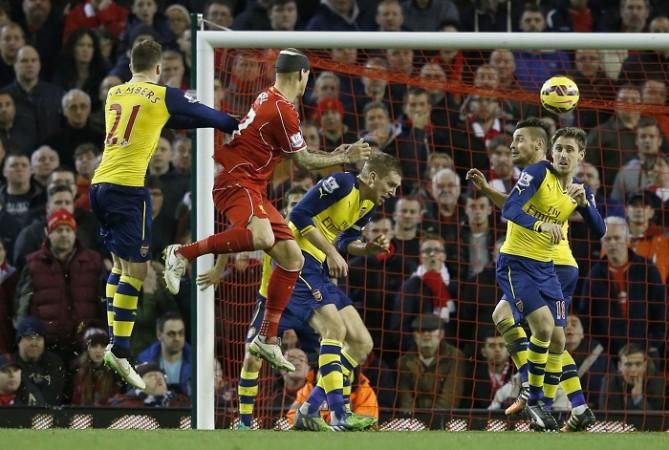 Arsene Wenger would have been sitting in the dugout watching his 11-man Arsenal team learn the art of protecting a lead against 10-man Liverpool in their English Premier League game at Anfield, almost expecting that defence to fumble, and concede that late equaliser.
There was an air if inevitability about it, and it was no surprise that it came via a setpiece when every single Arsenal player decided going anywhere near the ball, let alone head it, was completely unnecessary.
Martin Skrtel was the beneficiary of the gift, rising high all alone to power a header home in the seventh minute of stoppage time to salvage a point for Liverpool, a more than deserved point it must be said.
But getting what you deserve is never something that goes hand in hand with football – Arsenal only need to look back at their last big game, against Manchester United, when they battered Louis Van Gaal's men only to walk out with a 2-1 defeat. And Arsenal needed to show that same ability to not wilt under the pressure and hold on to a lead even if they might not deserve it.
Unfortunately, those old failings just fail to cease and Wenger admitted to being frustrated at the end result, even if he might have taken the point before kickoff.
"Overall I think once they were down to 10 men we were not dangerous anymore," said Wenger whose Arsenal side just kept defending deeper and deeper despite Fabio Borini seeing red late in the game. "We conceded a corner that was a bit unlucky and where we were guilty was that we didn't jump at all with Martin Skrtel.
"Of course from then on we conceded so it became 2-2. Overall it's a fair result over the whole 90 minutes, but it's a frustrating result for us, because they came back at a moment in the game where we had plenty of defenders on the pitch and could defend the set piece much better."
Wenger, of course, also invoked one of his favourite words in football – the handbrake – using it to try and explain Arsenal's woeful first half performance, when they were overrun by Liverpool.
"We had problems getting our flow going and we didn't have enough possession in the game," added Wenger, who surely must be getting tired of the same old narrative. "In the first half, it was down to tactical reasons and psychological reasons, whereas in the second half we blocked them much better.
"After we went 2-1 up, we just let them come at us and didn't come out enough to score a third goal. As long as you don't score a third goal, you are under threat to concede a second goal.
"I felt that we played with the handbrake [on] a little bit, in the first half especially."
Arsenal did pretty well to come back into the game after going down to a Philippe Coutinho strike, with Mathieu Debuchy scoring his first Arsenal goal in first half stoppage time, before Olivier Giroud made it 2-1 with wonderful goal from a typically Arsenal one-touch build-up.
But those nerves would just not hold long enough as Skrtel headed in to make it 2-2 deep, deep into injury time. And Wenger acknowledged the heavy defeat from last year at the hands of Liverpool also played a part in Arsenal's underwhelming performance on Sunday.
"Maybe bad memories from last year, it played a part as well," said Wenger. "I think some players were not at their best."