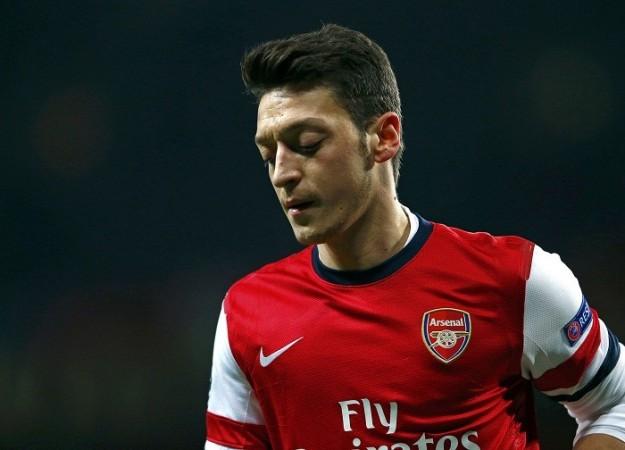 It's been nearly ten days since that what-on-earth-was-he-thinking penalty miss from Mesut Ozil. The German was not involved in the following English Premier League game against Sunderland last weekend, which Arsenal won 4-1, and after another seven days or so of rest, Arsene Wenger believes the German playmaker will be refreshed and raring to go against Stoke City on Saturday.
Ozil was put firmly under the spotlight following the 2-0 defeat to Bayern Munich in the Champions League, with the German international's ability to come to the fore in big matches put into question.
The Arsenal record signing's obvious disappointment at missing the penalty, which would have put Arsenal 1-0 ahead against the European champions, was evident, and Wenger believes it is a case of the £42.5 million man putting too much pressure on himself.
"I never tell Mesut: 'You have to win us the game,'" Wenger said during a media conference. "He shouldn't do that. It's down to the performance of the team. But maybe he feels that a bit in a different way than I do. I just want him to enjoy it and play well.
"It is difficult for him mentally to be confronted with that pressure every three days and in every single competition. But he will adapt. He had a difficult game, because he missed that penalty and it was on his mind. Sometimes, when you are under this kind of pressure, it's good to refresh."
Wenger is the kind of manager who supports and defends his players no matter what, and the Frenchman insisted Ozil will get over this underwhelming phase.
"He has gone a little bit through a difficult time," Wenger added. "It can happen to anybody. He looks all right. He loves to play. You give him a ball and he's happy.
"That's the most important thing. And he has the quality. You always have to be behind your players. The best way is to show him support."
While the Arsenal players were taking a break from action this week, one Arsenal man made all the headlines, firing in a superb goal against Manchester United in the Champions League.
Asked about the future of Joel Campbell, currently on loan at Olympiakos, Wenger said the winger could very well have a future with the Gunners. "I will decide that later," Wenger said. "Why not? We bought him to bring him here.
"He was good, convincing going forward [against Man United]. He looks like he has adapted a bit better to the physical side of the European game.
"We always knew that he had the talent to create something special. He did rely a bit too much on that.
"But he's now been out with three different clubs -- he was with Lorient, Real Betis and now Olympiakos. He has learned the toughness of the European leagues."