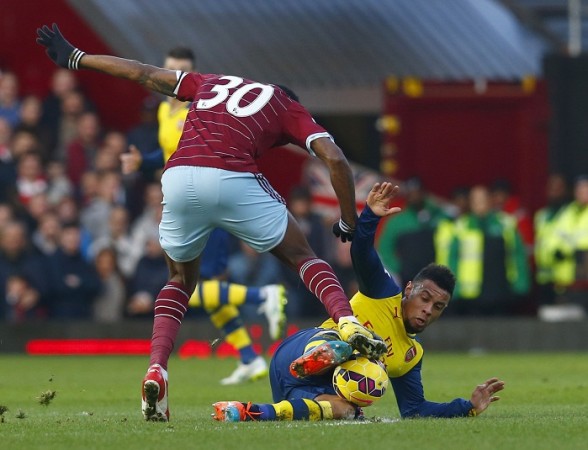 The biggest boost for Arsenal over the last couple of months has been the resurgence of Francis Coquelin, with the midfielder filling that hole which so needed filling in the centre of the park.
It is not much of a coincidence that Arsenal's performances and results have picked up following Coquelin's continued inclusion in the XI, with the Frenchman now a firm starter ahead of Mathieu Flamini in the defensive midfield position.
Coquelin was one of the many men of the match in the 2-0 win at Manchester City, reading the game splendidly and making the tackles when needed, and after another impressive performance against Aston Villa last weekend, the 24-year-old is keen on continuing his and his team's good form against rivals Tottenham in the North London Derby on Saturday.
"It's a massive game for the club and the fans," Coquelin told Arsenal Player. "I think everyone is looking forward to it. The Manchester City match was a big one, and this one has got a special something about it.
"It's going to be a tough game -- we're playing away over there, so it's going to be hard. I think with the month we've just had, the confidence is going to be high.
"Even at youth level, we got a lot of stick from their fans and the atmosphere was really good. It just makes you want to do even better for your team and win the game.
"When you play for Arsenal against Tottenham, it's not about just playing your game, it's about winning. You have to win it.
"For the fans and the team it's a big game and it's one we want to win."
Coquelin does not have the greatest of memories the last time he faced Tottenham, with Arsenal falling to a 2-1 defeat in October 2011.
However, that Arsenal team and Coquelin are completely different prospects now, and Arsene Wenger's men will be keen to build on the victories from last season against Spurs, even if they failed to pick up three points when the two teams met at the Emirates earlier this season.
"Obviously it was not a good day because we lost," added Coquelin recalling the loss. "Obviously you want to win these types of games.
"From my side hopefully I can put things right. If I'm playing in this game I want to win this game.
"At the time, it's already three years ago, I was young, but everyone helped me a lot. It was [down to the] details in that game. It could have gone either way. It went for them that time.
"Hopefully on Saturday it can go our way."