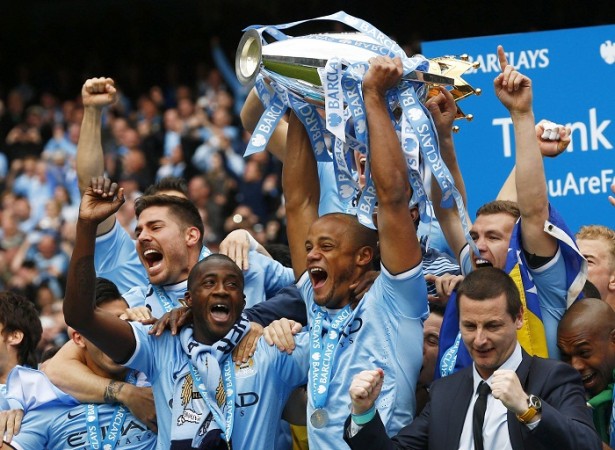 Manchester City captain Vincent Kompany claims he would not join Arsenal, even if he was offered £60m.
The Gunners surrendered a three-goal lead to draw 3-3 at home against Anderlecht in the Champions League on Tuesday.
Goals from Mikel Arteta, Alexis Sanchez and Alex Oxlade-Chamberlain had put Arsenal 3-0 up with half-an-hour remaining on the clock. But Arsene Wenger's side choked soon after as Anderlecht defender Anthony Vanden Borre struck twice, before substitute Aleksandar Mitrovic found an injury-time equaliser.
And Kompany, who spent 14 years with Anderlecht, was thrilled with the dramatic comeback made by the Belgian champions.
OMG Anderlecht!!

— Vincent Kompany (@VincentKompany) November 4, 2014
TV presenter and Arsenal fan Piers Morgan then asked the City defender if he would join Arsenal if he was paid £50m, to which the 28-year-old replied: "Great club but no."
Morgan then raised the stakes to £60m and "2 Ferraris" but Kompany told the Arsenal supporter that the Gunners' days of putting up title challenges are over, adding that he plays for "glory" now.
"@piersmorgan: £60m & 2 Ferraris?" Those days have gone Pearsie, I play for glory. :-) — Vincent Kompany (@VincentKompany) November 4, 2014
Interestingly, City themselves had surrendered a two-goal lead against CSKA Moscow two weeks ago in Russia, to suffer a 2-2 draw after being 2-0 up. The result has put Kompany's men in a spot of bother in Group E as they are currently third, with just two points.
City have to beat CSKA in the reverse fixture at the Etihad on Wednesday, to harbour any hopes of qualifying to the Round of 16. Even then, the Roma versus City fixture in the last gameweek could decide who would progress from the group, alongside current leaders Bayern Munich.
Arsenal, on the other hand, are still favourites to reach the last 16 as they remain second in Group D, five points clear of the third-placed Anderlecht.
Meanwhile, Tottenham defender and Kompany's Belgium teammate Jan Vertonghen could also not hide his excitement, when Mitrovic equalised for Anderlecht in stoppage time at the Emirates on Tuesday.
Mitrogoal!!! #arsand

— Jan Vertonghen (@Jan_Vertonghen) November 4, 2014