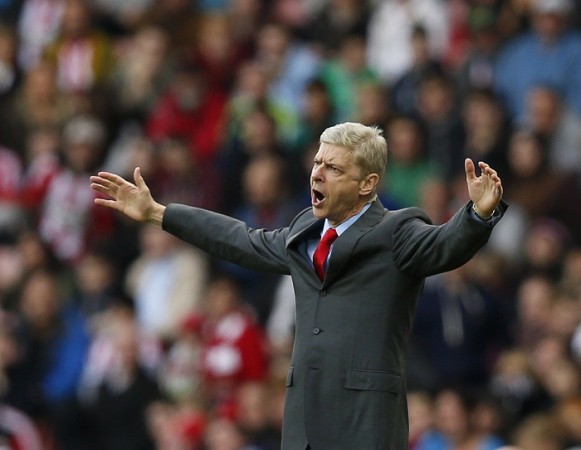 One bitten, twice shy is an age-old saying which is pretty simple in explanation – if you get trumped by one particular thing or person, you make sure it does not happen again. Just don't tell that to Arsene Wenger and his Arsenal team, though.
Time and again, this Arsenal side, helmed by Wenger, refuse to learn from their mistakes. Getting caught on the counter-attack seems to be Arsenal's favourite thing at the moment, and against Manchester United in the English Premier League, a game they absolutely dominated, they did just that, deciding Nacho Monreal was all that was needed to stop the likes of Wayne Rooney and Angel Di Maria.
And that folly was committed not when Arsenal were down by two or three goals and had nothing to lose, but when they were down by just one, and that too with six minutes of normal time, plus a whole chunk of stoppage time to play.
Yes, these Arsenal players are all internationals and should know better, but as it always does in football, the buck stops with the manager.
Wenger's biggest problem seems to be stubbornness – no matter what, the Arsenal manager just seems incapable of change or acting a little proactively.
When Arsenal desperately required a centre-back after selling Thomas Vermaelen in the summer, Wenger went and bought a striker instead, and even if Danny Welbeck has done pretty well (not that well, he should be scoring more goals), what Arsenal desperately required was a central defender.
After all, Arsenal are not short in the attacking department, but at the back they are as thin and fragile as paper. Yet Wenger's decision was to sell a central defender, while loaning out a fullback, whose presence would have been welcome right about now.
Plenty, of course, has also been spoken about the need for a strong body in midfield, something that Arsenal have lacked since Gilberto Silva left the club, and Wenger roundly refuses to fill that void as well.
Having said that, however, Arsenal's problems don't lie in the resources alone, it is also about the tactics. A team of Arsenal's ilk should not be sending nine players forward when they are just a goal down with plenty of time still left to play – plain and simple.
And while the manager is sometimes helpless watching from the bench, it is up to Wenger to ensure such basic mistakes do not happen, especially on the back of two tough results – the 3-3 against Anderlecht and the 2-1 loss to Swansea -- results which came courtesy goals scored via counter-attacks, with Arsenal's defence (if you can call it that) left with too much to do.
Over the past several seasons, there is always a week or five in the campaign when Arsenal seem to be in "crisis", with the "Arsenal in crisis" stories bandwagon coming out in droves and writing article after article.
While some of it might be overplayed, what cannot be denied is that sense of déjà vu. Why does every season need an "Arsenal in crisis" moment. After all, if Arsenal were cruising like Chelsea are at the moment, there would be no room for it, no matter how hard you tried; so why is it so difficult for Arsenal to find consistency – positive consistency, that is -- over the entire season?
You look at the players, and there is quality in every department. And the irony is, Arsenal, despite their ridiculous attacking talent, aren't even scoring enough goals, which brings Wenger's tactics and pass-to-death style of play also into question.
At least, the Liverpool side from last season outscored their opponents despite having a leaky defence. This Arsenal side do not even seem to be capable of doing that.
Soon that time will come when even the Arsenal board will start to feel a little uneasy with the results and the fact that sense of ok-another-season-fighting-for-a-top-four-spot déjà vu just does not go away. Yes, Wenger was probably the only person who could have kept Arsenal in the top four every season with the resources he had to play with, but with those times changing, and the purses loosening, the results also need to change, which it is not.
Wenger cares about Arsenal Football Club more than most, that is unarguable. Which is also why he cannot look past his problems, and the fact that time has not stood still, and it might be time for him to relinquish that power and allow the board to bring in some fresh blood.
Imagining an Arsenal team without Wenger at the helm in the Premier League era is quite difficult; yet time waits for no man, and if Arsenal keep waiting longer without pulling that trigger, then the man everyone almost expects to replace Wenger – Jurgen Klopp – might just go elsewhere.
Wenger is the be all and end all at Arsenal at the moment – he has control over his team, the kind of training and tactics they employ, plus the finances and which player to buy or sell.
However, with great power comes great responsibility, and it is the manager's responsibility to introspect and ask himself, if he really is the man to bring the best out of this Arsenal squad.
Hopefully, he proves everyone wrong and Arsenal make a stunning, unprecedented comeback in the Premier League and make a deep run in the Champions League as well. But, if past seasons are anything to go by, come the second half of the season, the only thing that Arsenal will really be fighting for will be that Champions League place.