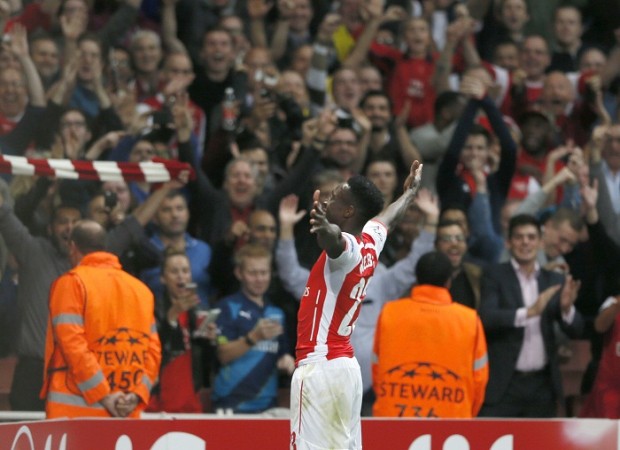 Gary Neville believes Danny Welbeck has the potential to become as lethal a striker as Arsenal legend Thierry Henry, and will trouble Chelsea considerably when the two teams clash in a high-profile English Premier League clash on Sunday.
Welbeck provided three sumptuously finishes in the Champions League against Galatasaray, with one goal in particular, very Henry-like.
Comparisons inevitably began, with many wondering if the 23-year-old striker, signed from Manchester United on transfer deadline day, can emulate Arsenal's record goalscorer.
Neville, one of the more thoughtful pundits in football, believes Welbeck can become a potent goalscorer if he takes the same career trajectory that Henry took after moving to Arsenal, when Arsene Wenger converted a then erratic winger into the best central striker in the world.
"They were Thierry Henry goals, but I'm not going to compare him to Thierry Henry because he was one of the best players in the world and one of the best players we ever had in the Premier League," Neville told Sky Sports.
"But remember what Arsene Wenger did when Thierry Henry came to Arsenal. I played against him as a 17-year-old at Monaco and he was very raw as a left-winger. His control was poor and he wasn't a goalscorer in those early years.
"When he went to Arsenal it just took off for him and if Arsene Wenger can work with Danny Welbeck in the same way as he did with Thierry Henry he will get an absolute bagful of goals if he is consistently playing."
Playing through the middle will be vital for Welbeck's career. No striker likes to be shunted to the wings to "do a job" (which he does really well by the way), and if Wenger continues to keep faith in Welbeck through the middle, then the manager could have a gem of a goalscorer in his hands.
Consistently playing as a centre-forward is vital for Welbeck, according to Neville, and the former Manchester United right-back believes the Arsenal striker will cause Chelsea's defence all sorts of problems on Sunday.
"He is playing as a centre-forward regularly. He was in and out of Man United's team and was also in and out of playing as centre-forward because he was on the left or right wing," added Neville, who is also an assistant to Roy Hodgson in the England setup.
"The biggest thing is that his centre-forward play outside the box is sensational -- his work-rate, and his touch -- but it's about his consistency of finishing. I think that will come from confidence and belief. It's making sure that when he gets in that left channel he has a finish, when he gets one-on-one with the goalkeeper in a central area he has a finish.
"Outside the box he is unplayable at times, he's a nightmare. He plays against John Terry and Gary Cahill on Sunday and they will not want to play against him. He's quick, he's strong and just the last bit has got to be delivered more consistently.
"If he can get goals more consistently to his game you've got a real top-class centre-forward there."