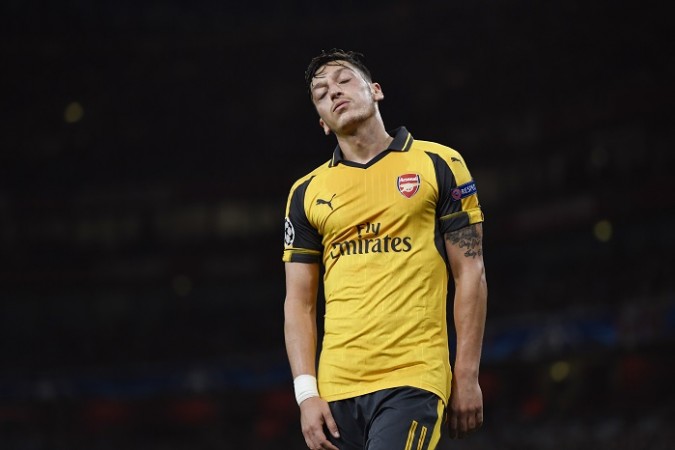 The Mesut Ozil contract talks look to be at an impasse, with the Arsenal manager Arsene Wenger suggesting the club are struggling to meet the player's demands. Ozil's current contract with the club will be up at the end of the 2018 season and negotiations have been going on for a few months.
Having done decent business in the summer, the priority for Arsenal, apart from football activities on the pitch, is to secure the futures of their star players. Both Ozil and Alexis Sanchez's contracts will expire at the end of the 2017-2018 season and the Gunners are determined to ink new deals for the players.
However, considering the market situation where player is king, wanting the players to sign a new deal and actually coming to an agreement look like being on two different planets at the moment.
Asked about Ozil's contract situation, Wenger admitted talks are ongoing, while hinting that the player's wage demands are on the higher side, even if the manager revealed the player's and club's ambitions are on par.
"I don't think he needs convincing [to stay]," Wenger said. "He wants to stay here. If you have a good bank, call me.
"It's not just money. Arsenal can win titles, of course. But that's what we have to show. We are in a league where Man City, Man United, Liverpool, Tottenham, Chelsea, everybody, fights and you cannot guarantee that to anybody."
According to reports, Ozil and Sanchez are asking for wages in the region of £250,000 a week. Ozil currently earns around £140,000 a week. It is difficult to envisage Arsenal not agreeing on a new deal and letting both players leave, considering the supporter backlash that move will cause.
Wenger, though, did not sound too confident when asked if the parties are likely to come to an agreement. "We keep that discreet," Wenger added. "At due time we will come out with that.
"Am I confident he will sign? It's not my main worry now. We want to keep our best players, of course. The more I say that, the more he is in a stronger position."
Ozil scored the winner for Arsenal in the entertaining 3-2 win over Swansea City on Saturday, a win that took the club joint-top with Manchester City.