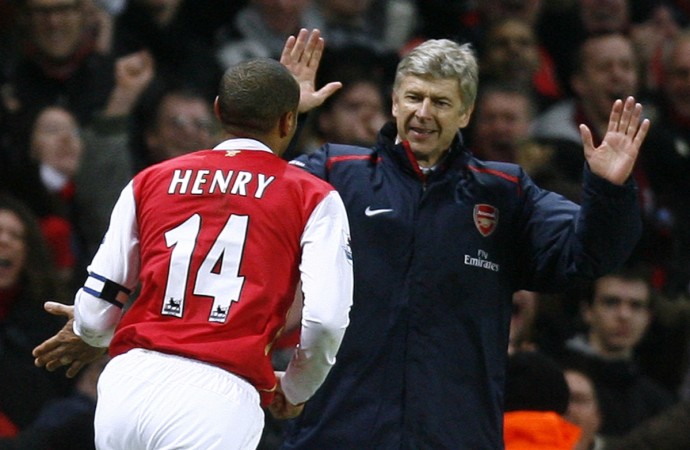 Arsenal manager Arsene Wenger has revealed that he is open to welcoming Gunners legend Thierry Henry back to the club in a coaching role.
The forward's contract with MLS side New York Red Bulls will expire this year. And with the 37-year-old approaching a possible end to his illustrious playing career, the Arsenal boss has stated that he would be happy to have his fellow Frenchman at Arsenal, after he hangs up his boots.
When asked if Henry could return to the north London outfit in a coaching capacity, Wenger did not rule out the possibility.
"It's not impossible - I welcome people who have played for us to come back, but they need to do something. It has to be a job available and one that you get up in the morning and you have to do something - not an honorary job," ESPN quoted the manager as saying.
However, Wenger pointed out that Henry has to master the craft of managing a football club and should be ready to face the challenges, before he takes over the reins at a club.
"He has to learn his job first. I have seen so many people who have the qualities to be a manager but not survive their first job because they are not ready. When you are a football player, you think it's so simple to be a manager.
"When you are a manager, you think it's so complicated suddenly and, if you're not prepared for that, you cannot survive. You learn to handle a dressing room and people. This job is about ideas and putting them into practice. You can only do that if you have the responsibility of the team."
Henry has 228 goals and 93 assists to his name from 376 appearances for Arsenal in all competitions. The Frenchman won two Premier League titles - including an unbeaten run in the 2003/04 season - and three FA Cups during his seven-year stint with the Gunners.