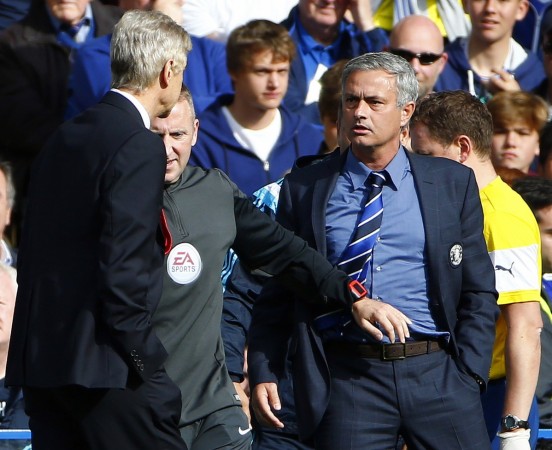 After a little bit more reflection, Arsene Wenger admitted he was wrong to shove Jose Mourinho during an altercation in the English Premier League match between Chelsea and Arsenal.
Wenger was walking towards Alexis Sanchez after a rather crunching tackle on his player by Gary Cahill, when Mourinho took exception to the fact that the Arsenal manager was hovering near his technical area.
The Frenchman reacted by pushing Mourinho out of the way with the two then having a few verbals as things got a little heated up.
In the immediate aftermath, Wenger insisted he had done nothing wrong, but the Arsenal manager has now admitted he overreacted and should not have put his hands on the Chelsea boss.
"I regret every sign of violence and I apologise, but that's a part of games where everything is manic," Wenger told Telefoot.
"It's not a way to behave on a football field and I shouldn't have reacted like that."
Wenger, though, insisted Mourinho was also wrong to walk at him in a huff, in what the Arsenal manager thought was a form of provocation.
"We have quite a substantial past," added Wenger. Did Mourinho provoke me? That is how I felt.
"But I did not enter his technical area."
The sooner Arsenal and Wenger move on from this issue, and indeed the 2-0 loss to Chelsea, the better as what needs to be put right from the North London club's point of view are the results.
Arsenal have made a poor start to their English Premier League campaign, drawing four and losing one of their first seven matches, and if Wenger does not find solutions soon, then his side will be out of the title running a lot sooner than last season.
Wenger, of course, has had to deal with plenty of injuries, with the latest casualty being Mesut Ozil, who was ruled out for around three months with a knee injury.
Arsenal suffered another scare on Sunday, with Danny Welbeck limping off for England during the 2016 Euro qualifier against Estonia.
England manager Roy Hodgson, however, allayed fears over another long-term injury problem for Arsenal, who already have ten senior players sidelined.
"I don't think he's injured," said Hodgson after watching England eke out a 1-0 win at Estonia courtesy a Wayne Rooney goal. "He just rolled his ankle slightly. The doctors are not worried about it."