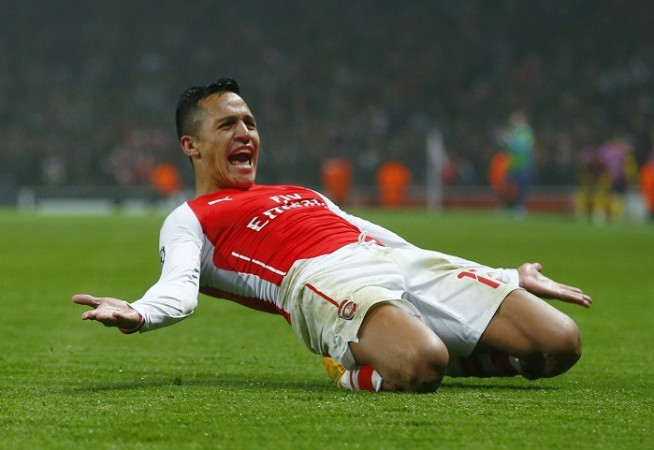 Alexis Sanchez has been receiving the plaudits for pretty much every Arsenal performance, and right so – the South American forward has been in ridiculous form and has sometimes single-handedly carried his team to victories this season.
Sanchez showed his worth yet again in the Champions League win over Borussia Dortmund on Wednesday, scoring a sumptuous second goal in the 2-0 result.
His 13 goals in 20 matches this season have helped Arsenal no end, and as far as Aaron Ramsey, a man who could some of that Sanchez form himself, believes the former Barcelona man is no different from the other South American greats – Luis Suarez and Sergio Aguero, last season's and this season's best strikers in the English Premier League.
"He works so hard for the team and when he gets an opportunity to score, he scores," Ramsey was quoted as saying by Arsenal's official website. "It took him a couple of games to get into it, but he has not stopped scoring since.
"The thing which has impressed me most about him is his work rate off the ball. With the South American players, it is sort of bred into them to work hard.
"He is no different to any of the other players like Suarez or Aguero, so we are grateful to have him in our team."
Arsenal picked up a much-needed victory over Borussia Dortmund after two losses on the bounce and Ramsey and co. will now look to build on that positive result with another win when they visit West Bromwich Albion.
"It was a really pleasing performance, we picked up where we left off from Man United in terms of the way we played, but we got the early goal this time," added Ramsey.
"It always helps when you do, and you could see the confidence in the team [afterwards]. We defended really well and kept a clean sheet.
"I said the other day that hopefully we would win against Dortmund, as it was a fantastic game to test ourselves after a disappointing defeat by United.
"We have come out winners and hopefully now we can get back to winning ways in the Premier League and go on a run there as well."
With Wilshere ruled out for at least three months, Arsene Wenger will hope Ramsey can step up and find the form from last season, when he was scoring goals for fun. If Ramsey can get to that level which made him one of the best midfielders in the Premier League, then Arsenal will certainly not feel the loss of Wilshere that much.