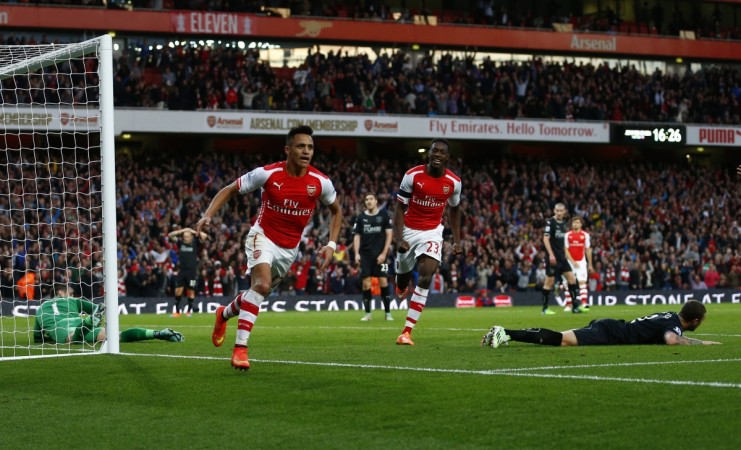 Arsenal's new talisman Alexis Sanchez claims he is enjoying his time with the north London outfit, and insists the Gunners can win several trophies in the near future.
Alexis, who joined Arsenal from Barcelona after turning down Liverpool in the summer, has hit the ground running in England, notching up eight goals and two assists from nine starts in the Premier League. The 25-year-old has been in excellent form especially after the last international break, scoring seven goals in six outings.
The Chile international has impressed teammates, fans and pundits with his energy, attitude and work rate by chasing down defenders and goalkeepers, right from kickoff to the final whistle.
However, Arsenal's poor run of results of late, had given rise to speculations that Alexis is not happy with his teammates, and will look for a move away next summer. But the forward has now revealed how happy he is at the club and how much he believes in this team.
"I am now at Arsenal and I hope to win everything. That's why I came here. I know that with this team we can win many trophies in the coming years. I'm convinced," AS Chile quoted Alexis as saying.
"People I trust told me really good things about Arsenal, about its greatness, and the quality of their players. Now that I'm here, sometimes I stop to look my teammates during the training session and I realise that I'm surrounded by a lot of quality stars. I have been impressed by their attitude and their talent."
Alexis also spoke on how much his fellow attackers at Arsenal have impressed him with their movements on and off the ball. The Chilean feels the only thing the Gunners lack now is a winning mentality and, if they develop that, the team will achieve great things.
"I love how they create spaces, their individual and collective movements. I have repeated many times, that if we have the required winning mentality, if we are positive and try to win every single game, I know we can win any competition."