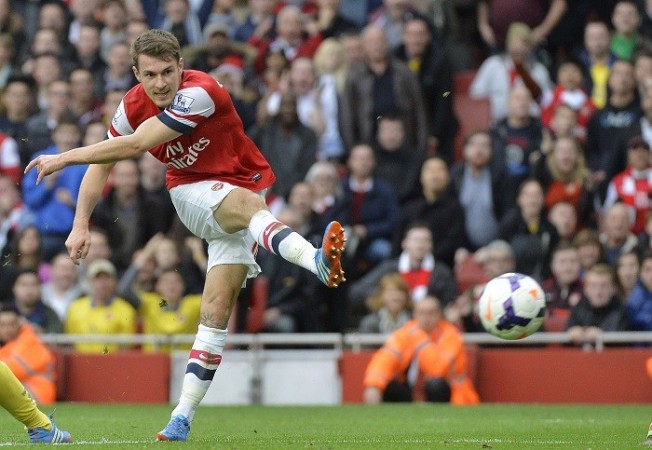 After Arsenal's great start this season, in the early part of the season, naysayers kept insisting this Arsene Wenger side cannot be judged until they play a couple of the big boys, that was despite getting the better of Tottenham and Napoli.
Now, after easing past Liverpool in an authoritative performance in the English Premier League, and showing real tactical nous and maturity in that epic 1-0 victory against Borussia Dortmund in the Champions League, pass one more test on Sunday, and even the harshest of critics will have to admit this team holds great title credentials.
That test is of course against the reigning Premier League champions Manchester United, at Old Trafford, where the Gunners have tasted quite a bit of pain over the last few years.
There have been several moments of glory too, with that famous Sylvain Wiltord goal which clinched Arsenal the Premier League title in 2002 being the most famous.
But in recent seasons, though, the Gunners have struggled at United's home ground, with the last two Premier League games a couple of rather forgettable ones, especially the 8-2 mauling in the 2011-12 season.
However, now things stand a little different, with Arsenal enjoying a five-point lead at the top of the Premier League table, albeit after only ten matches, while United are eighth, eight points behind their opponents of Sunday.
Aaron Ramsey, who has been in irresistible form this season, cannot wait to add the gloss to the week which has already seen Arsenal top Liverpool and Dortmund.
"It is going to be another massive game - this was always going to be a big week for us and we couldn't have got off to a better start," Ramsey told the club's official website. "Hopefully now we can go to Old Trafford and finish the job off," the Wales international said.
"It would be massive [to beat United]. We are feeling really confident at the moment and we're in good form in the league, so why not go there and win?
"They have had a bit of a rough start but they have overcome that now I think. They've had a few good results in the league and will be getting their confidence back up, but we are really confident ourselves. Our away record has been really good so hopefully we can continue building on that.
"We have struggled [at Old Trafford] over the last few seasons, so hopefully now that we feel a lot more confident this will be the time when we do manage to do it."
In the large scheme of things, a point will be quite a good result for Arsenal, flying in the Premier League. But the way their form is at the moment, and the confidence that is seeping through the players, not a single soul in the squad will be happy coming away with less than three points.