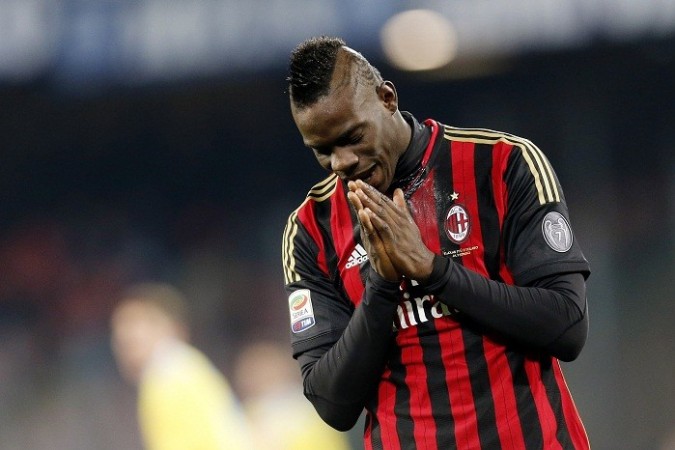 Arsenal and Liverpool are reportedly chasing Italian striker Mario Balotelli, after speculations indicated that the 23-year-old is unhappy at his current club AC Milan.
Balotelli, who scored 14 goals for Milan in the Serie A this season, is reportedly fed up due to the racism issues in Italy. The former Manchester City star is now eager to make a move back to the Premier League.
Both Arsenal and Liverpool, who have been monitoring the striker's situation for sometime now, are keen, according to the Daily Star, despite the 23-year-old being involved in several controversies both on and off the pitch during his time in England.
Arsenal are in need of a quality forward as they currently have only Olivier Giroud as a senior out-and-out striker in their ranks. Liverpool, on the other hand, are looking to sign Balotelli as an insurance, in case their talisman Luis Suarez gets tempted by an offer from Real Madrid, who are reportedly lining up a £100m bid for the Uruguayan.
Meanwhile, Liverpool and Arsenal's other striker target Loic Remy has been handed an £8m price tag by Queens Park Rangers.
The 27-year-old, who spent the whole of last season on loan at Newcastle United, managed to attract the attention of several cubs including Liverpool and Arsenal, after scoring 14 goals from 26 league games.
QPR manager Harry Redknapp, who catapulted his side back to the Premier League following their 1-0 play-off final victory over Derby County, confirmed that Remy will not play for the Hoops next season.
Though Remy, who moved from Marseille to QPR for £8m in January 2013, still has three years remaining on his current contract with the Hoops, Redknapp says he can leave if any club is ready to trigger his buy-out clause.
"I don't see [Loic] Remy wanting to come back and play. He's talking about playing Champions League somewhere. I wouldn't know what he'll do, but I think he's got a buy-out clause which is at a reasonable level. Not much more than we paid for him," ESPN quoted Redknapp.
Elsewhere, Liverpool are reportedly trying to secure the services of Southampton duo Adam Lallana and Nathaniel Clyne for a combined fee of £40m, according to the Daily Star.
Lallana, who enjoyed an impressive season with the Saints, is already at the top of Brendan Rodgers' wish list, with the Northern Irishman reportedly ready to spend £25m on the midfielder.
Right-back Clyne, on the other hand, is reportedly being targeted as a long-term replacement for Glen Johnson, who only has a year remaining on his current Liverpool contract. And Rodgers is hoping that a £15m bid will prove enough for the 23-year-old's signature.