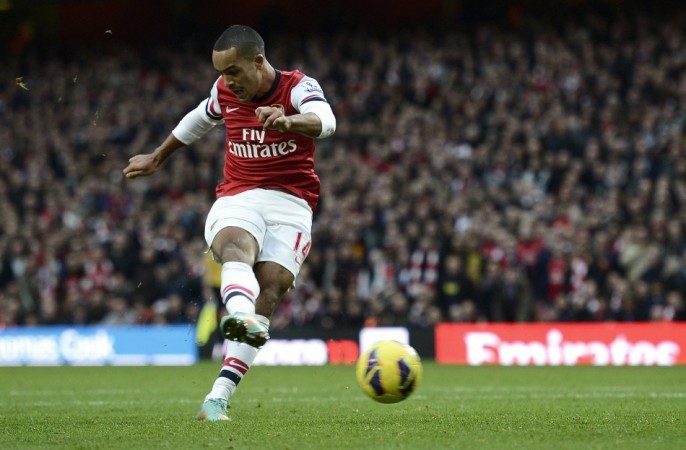 Arsene Wenger confirmed the return of Theo Walcott from injury, in a huge boost for Arsenal ahead of their top-of-the-table clash against Southampton on Saturday.
Walcott has been out of action for two months with an abdominal problem and Arsenal have missed the England tyro's pace and runs in-behind on quite a few occasions, especially when opponents have defended narrow to nullify the threat of the one-touch-through-ball playmakers like Mesut Ozil, Santi Cazorla and Aaron Ramsey.
Wenger confirmed Walcott would be in the squad for the English Premier League game against Southampton, but also revealed he would take a cautious approach with the 24-year-old.
"Theo will be back for Saturday in the squad," Wenger told Arsenal's official website. "He's completely fit again. He has not played for a long time, of course, he has not played even a reserve team game, but I will put him in the squad on Saturday. Yes [I will use him cautiously]."
Arsenal, who are top of the Premier League table, two points ahead of Liverpool, need to bounce back from the disappointing loss to Manchester United at Old Trafford a couple of weeks back.
Southampton are flying high in third, and Wenger, who could be without Tomas Rosicky due to illness, will be glad to have Walcott, who will be buzzing for a return against his former side, back.
"He is one of the players who goes behind [the defence] without the ball," Wenger added. "Strikers who get behind the defenders is a very important quality and Theo has that quality.
"Of course you miss a player like Theo Walcott. Theo had a good start to the season, he scored goals, he provided chances and had assists. He can always give you a different option in the game and that is of course vital.
"You always want to have a perfect balance [in attack]. If you look at our results our balance was not too bad. But Theo has different qualities to other players and I am very pleased that he's back."
Wenger also gave updates on Lukas Podolski, Alex Oxlade-Chamberlain, Yaya Sanogo and Abou Diaby, with the former the closest to a return.
"Podolski is not too far away, I would say three weeks," Wenger said. "He is doing fitness training on the pitch. He starts to do some ball work too, he still needs two or three weeks before we see him on the pitch for Arsenal."
Oxlade-Chamberlain is at least a month away from recovering from his long-term injury, while Sanogo and Diaby will not make their comebacks until the New Year, with the latter not expected to return before March.