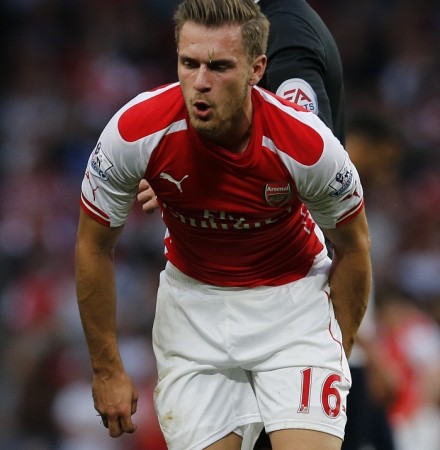 When Aaron Ramsey got injured last season for Arsenal, in what was thought to be a problem which would only keep the midfielder out for a few weeks, the North London team struggled, and how.
From being top of the table, they suddenly slid to the more familiar confines of third and fourth place and in the blink of an eye, the dream of winning their first English Premier League title in ten years was gone.
Of course, the loss of Theo Walcott also had something to do with Arsenal's seriously alarming tailing off in the second half of the season, but Ramsey was equally, if not more, key.
Now, Arsene Wenger faces another nightmare situation of having to put out his Arsenal team without their inspirational midfielder, with Ramsey set for six weeks on the sidelines (some reports suggest four weeks, but keeping in mind Arsenal's reputation for bringing back players from injury, six weeks does seem like the more likely option).
The Wales international, according to the Daily Express, has suffered a grade two hamstring injury, after being forced off injured during the North London Derby against Tottenham.
Losing Ramsey will be huge for Arsenal, who have started to rely on the midfielder for that extra bit of cutting edge and the penchant for scoring vital goals, like he showed early this season and in that unforgettable FA Cup final.
Wenger admitted Ramsey's hamstring injury is a bit of a worry. "Ramsey is a concern," admitted Wenger after the 1-1 draw with Spurs. "He had a good rest this week, I didn't play him against on Southampton on Tuesday night, it's a surprise because he's usually a resistant boy."
With Jack Wilshere and Mikel Arteta also picking up ankle and calf injuries respectively, Arsenal's injury jinx seems to be heading into overdrive, with the signing of Shad Forsythe over the summer, clearly not having much of an effect, at least, as yet. Olivier Giroud, Mathieu Debuchy, Yaya Sanogo, Nacho Monreal, Serge Gnabry and Walcott are all already on the injury list.
While Arteta, like Ramsey, will definitely miss the Champions League game against Galatasaray and the big Chelsea encounter at Stamford Bridge, Wilshere could be back for the game on Wednesday, according to the Daily Mail.
Wilshere has slowly but surely found his spark this season, and, especially with Ramsey missing, the midfielder's drive and creative force in the final third will be vital.
It is understood, if Wilshere does not make it for the Galatasaray match, the 22-year-old should at least be fit to take on Chelsea in the English Premier League at the weekend.
Arsenal are desperate for a positive result or two after failing to hit top gear this season, and what better balm to soothe their early season injuries than with back-to-back wins against Galatasaray and Chelsea.