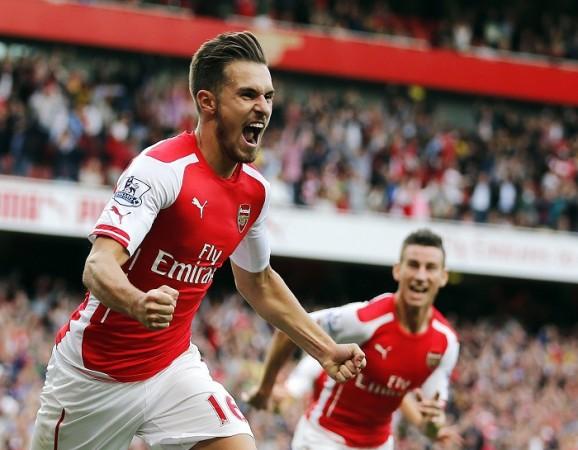 The one thing that all clubs dread during an international break are injuries to their key players. Arsenal looked like they had escaped trouble on that front with most of their players seemingly coming back unscathed only to see one final curve ball being thrown at the last minute, courtesy an injury to one of their most influential players, ahead of the mouthwatering English Premier League encounter against Manchester City.
Aaron Ramsey is a doubt for the match against City after the midfielder rolled his ankle in the Euro 2016 qualifier against Andorra.
"He got a kick and there was a twist in his ankle," Coleman, whose side just about saw of Andorra, revealed the reason behind substituting Ramsey late in the game. "It was coming to the end of the game and it was pointless taking a risk with him.
"Hopefully he'll be OK for Arsenal at the weekend but we'll have to see what the next 24 to 48 hours hold."
Arsenal have already had several injury headaches to deal with even at such an early stage of the season, but losing Ramsey for the crucial clash against the Premier League champions would be a big blow.
The only bright side of Ramsey's injury would be that it is a position that Wenger has plenty of options to choose from, and Jack Wilshere did seem to play much better and with more freedom in the absence of the Welshman, after the midfielder was suspended for the Champions League playoff second leg clash against Besiktas.
However, with the team a little goal shy at the moment, Ramsey is one of Arsenal's main weapons in that department.
While much of the attention will be on Danny Welbeck, who is expected to make his debut in the early kickoff against Manchester City on Saturday, Arsenal's chances of picking up a home victory will be a lot higher if Ramsey is in the starting lineup.
Wenger will now all of his fingers, and toes, crossed hoping that his main man recovers in time to be fully fit and raring to go on Saturday.