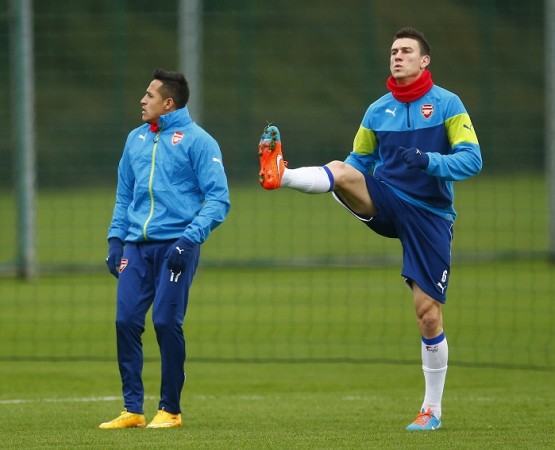 Arsenal just cannot seem to get that injury bug out of their system, with Jack Wilshere and Mikel Arteta joining the already considerable list after recent action on the field.
There are more problems for Arsene Wenger heading into the must-win English Premier League game against West Bromwich Albion, with Danny Welbeck, who missed the Champions League clash against Borussia Dortmund with a knock and Yaya Sanogo also major doubts for the game. Theo Walcott has failed to recover from his groin problem as well and will not be involved at the weekend.
Sanogo stepped up with a goal and a reasonable performance against Dortmund, but had to be taken off with a tight hamstring, and the striker, like Welbeck, will have a test before determining his availability for the clash against Dortmund on Saturday.
"Welbeck will have a test this morning," said Wenger. "He has not practiced yet. I can't tell you at the moment [if he will be fine].
"I think Sanogo has problems as well because I had to take him off. We have a few other players that we have to check."
The positive from the striker news is that Giroud, who made a goalscoring return last week after three months out with injury, will be available, and the Frenchman, who could not take part in the Dortmund clash due to ineligibility, will, no doubt, be raring to go.
Problems in midfield are also aplenty, with Wilshere undergoing surgery on his ankle which will keep him out for three months, while Arteta is also definitely ruled out with a calf injury.
"Arteta is out for sure of course," added Wenger. "Arteta has now had a calf problem for the third time. It's always a small grade one but it's minimum two to three weeks."
Wilshere's injury will be a hard one to take for Wenger and the player himself, with the diminutive midfielder finally looking like finding some of his old form, only another pesky ankle injury to come back to haunt him again.
"He's prepared and focused on coming back to finish the season well," said Wenger on Wilshere. "I think he will be back at the end of February, beginning of March and he will focus on coming back to rehab, having a strong rehab, and then I'm sure he will help us to do well until the end of the season.
"He's very down -- Jack is a football man who loves the game. But on the other hand, he's a very strong character as well and he has learnt to deal with adversity at a very young age.
"He always comes out stronger and when I spoke to him, the final sprint of the season is already in his mind. He's a very strong boy.
"If he has no problem with his joints, he will make a massive career. I was more worried one year ago than I am today because he had two or three surgeries on his right ankle.
"At some stage, you could raise that question, but today I am much more confident that he will [go on to have a big career]."
Goalkeeper Wojciech Szczesny has not trained all week, which makes it almost certain that Emiliano Martinez, who was quite impressive in the Champions League, will be behind the sticks against West Brom, particularly with David Ospina still recovering from his long-term problem.
The defence will be boosted by the return of Laurent Koscielny, though, with the centre-back expected to finally take his place in the back-four after recovering from an Achilles injury. "He is well," said Wenger when asked about Koscielny. "If I want him to start, he will start."