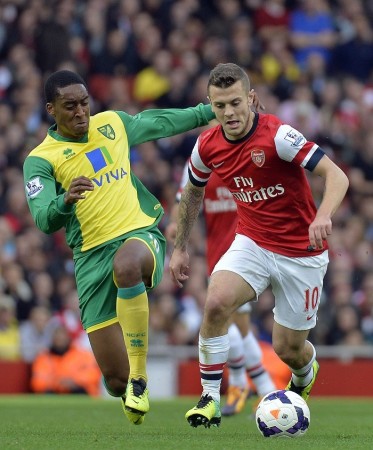 Arsenal are preparing themselves to have to do without the services of Jack Wilshere for the second straight game.
Wilshere missed Arsenal's impressive 2-0 win over Liverpool in the English Premier League on Saturday, and the England international is not expected to travel to Germany for the crucial Champions League clash against Borussia Dortmund.
The midfielder, whose career has been blighted by injuries, rolled his ankle in training on Thursday, which kept him out of the Liverpool match. Wilshere has not trained fully since and therefore is not expected to feature against Dortmund.
The satisfying news is the fact that the ankle injury is not to his right foot, the one that has caused him so much trouble over the past couple of years.
Wenger insisted there was not too much concern over the new injury and both Wilshere, who has failed to live up to the expectations a little this season, and the Arsenal manager will be wary of making the decision to return to the pitch too soon.
"He has an inflamed ankle," Wenger said after the win against Liverpool on Saturday. "I don't know if he'll be available on Wednesday [against Dortmund], we have to wait until Monday. It is not long-term."
The Arsenal boss has always been careful when it has come to using the undoubtedly gifted midfielder and Wilshere has struggled with his left foot after over-compensating for his ankle troubles on his right foot.
Arsenal's other long-term candidates - Alex Oxlade-Chamberlain, Theo Walcott, Lukas Podolski, Yaya Sanogo and Abou Diaby - are not expected to be available for the Champions League trip either.
Meanwhile, Mikel Arteta, who was outstanding against Liverpool, insisted Arsenal are capable of topping Dortmund on Wednesday. The German side, runners-up last season in the Champions League, beat Arsenal 2-1 at the Emirates a week back, but Arteta feels that loss was more the result of the home team's lack of concentration than the superior quality of their opponents.
"No [they weren't the better team], we conceded a goal when we were on top in the game, and were likely to score a second to kill the game," Arteta told the club's official website.
"We know in the Champions League against those teams you are limited to small chances, and it was our fault [that we lost].
"It is a massive game again [in Dortmund on Wednesday]. We knew this week was going to be very tough, so beating Liverpool is a good way to start it. Dortmund will be a very different game, with the way they play, so we will have to get ready for it."
Arsenal, Dortmund and Napoli are all on six points in Group F after three matches each, with the fourth side in the group - Marseille - yet to pick up a single point.