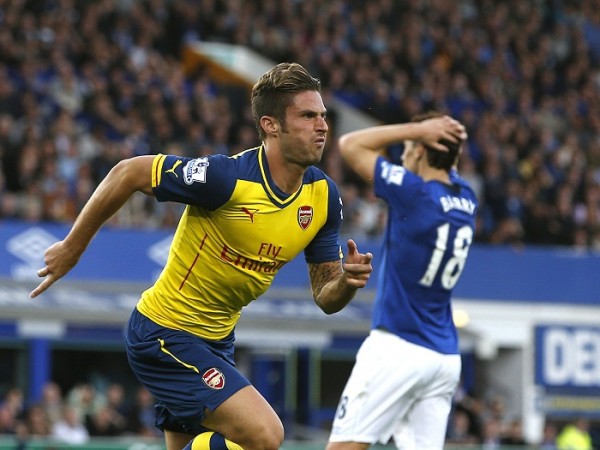 The one aspect that Arsenal have struggled with time and again over the past few seasons is bringing players back in time from injuries. Almost every time a player has gone down injured, it has taken him longer than expected to return, with Aaron Ramsey, last season, or Tomas Rosicky, pretty much every season before that, being a case in point.
So, it is refreshing to see an Arsenal player make a return from a long-term injury ahead of schedule, and that is exactly what Olivier Giroud has done.
Expected to be out until the New Year, Giroud, who has been sidelined since the end of August, returned to training during the international break, and the Arsenal striker has now been made available for selection by Arsene Wenger, in a big boost for the manager ahead of the key English Premier League match against Manchester United on Saturday.
"He is three or four weeks ahead of schedule," Wenger told the club's official website. "Originally we planned to have him back for competition at the beginning of next year. So he's one month ahead."
Along with Giroud, skipper Mikel Arteta is also available for selection against Manchester United. "Giroud and Arteta are both available," said Wenger. "It's just a question of how ready they are. But they are available."
Things are certainly looking up for Arsenal on the injury front, with Mathieu Debuchy stepping up his comeback from a long-term ankle injury, while Laurent Koscielny is also on the mend from an Achilles problem.
"Koscielny and Debuchy are doing well, they are out on the field again," Wenger said. "We have to see now. Usually field work is three weeks away from full group training. Then there is fitness.
"It looks straightforward for Debuchy. It's not inflammation, it's just repairing surgery. For Koscielny, it depends how well he responds to training. At the moment he looks good."
Another star player missing from the ranks is Mesut Ozil, who has been sidelined with a knee injury. Ozil, though, seems like being the last one to return, despite being on track in his rehabilitation, with Wenger confirming the playmaker would not be fit until the New Year.
"Ozil is doing well but he will not be ready before the start of 2015," added Wenger.
With Theo Walcott also back from injury, Wenger certainly has plenty of attacking options for the game against Manchester United, but it is the defence that will be the worry, with Nacho Monreal again likely to fill-in at centre-back in the absence of Koscielny.
It will be up to the entire team, though, to ensure they don't leave the two central defenders on their own during a counter-attack, something that has happened time and again this season, particularly during Arsenal's last two games.