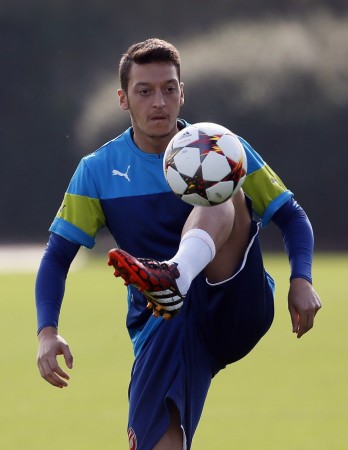 Arsenal have had to deal with several key players being injured this season, with one important cog in the wheel after another falling down like nine pins.
The major worry whenever a player gets injured at Arsenal is if he will be able to return in the scheduled time. Too many times, Arsenal players have been ruled out for a specific period only for that period to be extended time and again.
Aaron Ramsey, last season, was only supposed to be out for a few weeks when he suffered a hamstring injury, but that absence turned into a few months, a few months which eventually cost Arsenal a run at the English Premier League title.
With several key players in Olivier Giroud, Mesut Ozil, Laurent Koscielny and Mathieu Debuchy out long-term the first hope that springs to many of the Gooners' mind will be that those injuries don't get prolonged.
Giroud is only expected to return to action in the New Year, while Ozil is also still out for quite a few more weeks, with Debuchy scheduled to return sometime in December.
Ozil will be doubly keen to return to the pitch as soon as possible to prove his critics, who have been on his back ever since he made his move from Real Madrid in the summer of 2013, wrong.
The Arsenal playmaker took to Facebook to give his fans an update on his recuperation from a knee injury suffered during the 2-0 defeat to Chelsea, saying he was hopeful of a quick recovery.
Ozil wrote: "Best team! Thanks for your great support to enable my quick recovery," along with a picture of him on a treatment table.
Debuchy also took to social networking sites to give an injury update on his recovery, by writing on Twitter: "Good session yesterday!! Thanks for your messages."
Arsene Wenger will certainly hope to have both players back in the squad, especially Debuchy as Arsenal are seriously thin at the back at the moment.
The Arsenal manager has been forced to play left-back Nacho Monreal as a central defender alongside Per Mertesacker, with Calum Chambers forced to play at right-back owing to Debuchy's injury.
Arsenal's first-choice centre-back Koscielny is also currently on the sidelines with an Achilles injury, with Wenger unable to give a return date for the France international.