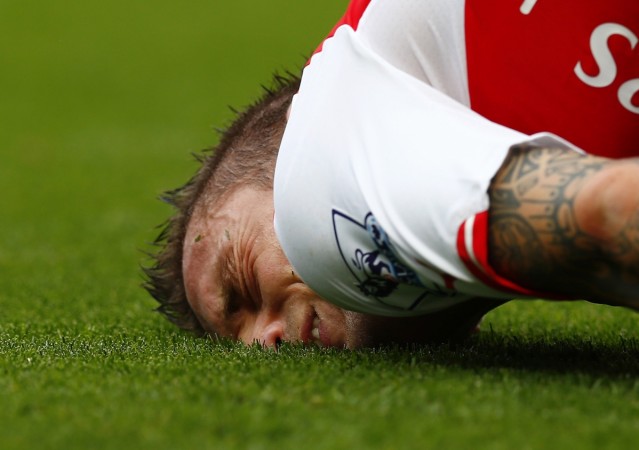 Arsenal full back Mathieu Debuchy recently revealed that he might need a surgery on his ankle injury, which he suffered during the Gunners' 2-2 home draw against title rivals Manchester City, on Saturday.
The French international announced on Facebook, on Wednesday, that he has broken a ligament in his left ankle, and might be needing surgery to recover from his current ailment. His doctors have not yet been able to ascertain whether he needs surgery or not, but they are scheduled to make a call on this issue on Friday.
The 29-year-old Arsenal right back suddenly collapsed on the pitch when he caught his left ankle on the ground, damaging his ligaments in the process. Debuchy was not under any kind of challenge from any of the Manchester City players, when he went down in a heap, on the 81st minute of the Premier League encounter.
"No fracture but one broken ligament," said the French defender on Facebook. "I have to wait until Friday in order to know if I must have surgery."
Debuchy was signed from Newcastle United, in order to replace fellow Frenchman Bacary Sagna, who was snapped up by Manchester City. This injury meant that Debuchy missed Arsenal's first Champions League game of the season, and German heavyweights Borusia Dortmund.
The Gunners seemed to sorely miss their regular right back, as the young 19-year-old Hector Bellerin filled in at right back, as they lost 2-0 against Dortmund. Although Bellerin seems to be a great prospect for the future, Arsenal would sorely miss their regular right back.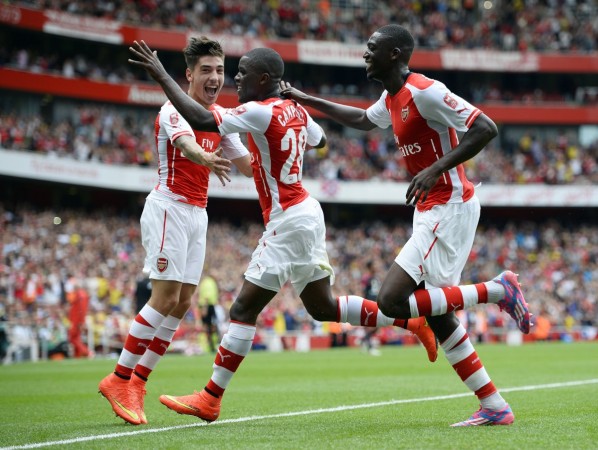 "We just switched off," said the Arsenal manager Arsene Wenger. "We did not look the same team. Not because of Chambers but we looked a bit lost."
With the experience of the 29-year-old Debuchy lacking in defence, Arsenal looked shaky at the back, conceding two goals on the counter attack, against Dortmund. However, Wenger seems to be hell-bent on looking at the positive side of the defeat.
"The paradox of the night is we had very good chances to score first that didn't go for us and went for them. We were caught on two counter-attacks on 45 and 48 minutes and that was very difficult," he said.