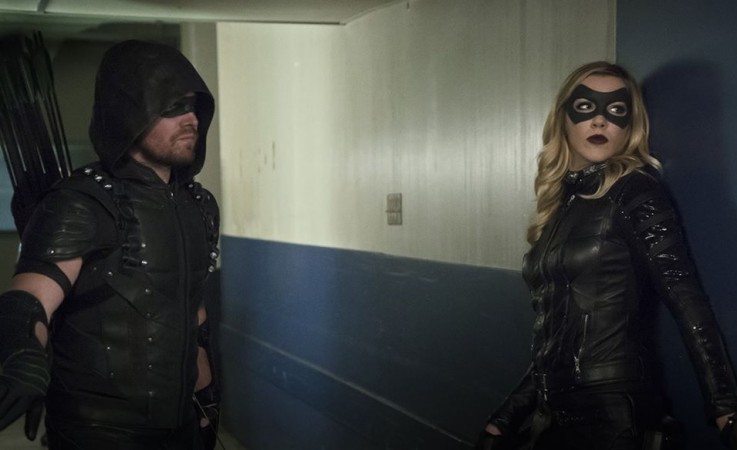 Arrow returns with season 5 tonight, October 5, at 8pm EST on The CW. The premiere episode is titled Legacy and it will follow Oliver Queen a.k.a Green Arrow.
Episode 1 will also feature Emily Bett Rickards as Felicity Smoak, Katie Cassidy as Laurel Lance, David Ramsey as John Diggle, Echo Kellum as Curtis Holt, Willa Holland as Thea Queen and Chad L. Coleman as Tobias Church.
Click here to watch Arrow season 5 premiere live online. Episode 1, titled Legacy, will also be available online on The CW website.
The sequel will begin by introducing the struggles of Stephen Amell's character as the mayor and also the protector of Star city. Talking about the episode, executive producer Wendy Mericle stated that it has more to do with the male protagonist's legacy. "Aside from Felicity in the bunker, he's out on his own. That is where we started the show," TV Line quoted her as saying.
Mericle even teased the return of Katie Cassidy as Laurel Lance in the first episode and said, "She is not gone." So viewers may get to hear the conversation between Cassidy's character and the male lead on the hospital bed.
The supernatural drama series will also introduce a new villain to viewers. Since the character has no connection with DC comics, fans are curious to meet him. But they might have to wait a little longer as he may not appear in the upcoming episode.
Teasing the curious fans, creator Marc Guggenheim said (via The Hollywood Reporter), "He's a new character. He's our big bad for the year. We call him Prometheus. It's not the Grant Morrison-Howard Porter Prometheus from the Justice League. He's a new character that fits in with the theme of legacy for this season. He's pretty badass and mean."
Here is the official synopsis of episode 1:
After Laurel's (Katie Cassidy) death and the departures of both Diggle (David Ramsey) and Thea (Willa Holland) from Team Arrow, Oliver (Stephen Amell) takes to the streets solo to protect Star City's citizens as the Green Arrow. With Felicity (Emily Bett Rickards) guiding him from the bunker, Oliver is forced to deal with a city that has become overrun with both criminals and a slew of new (and painfully inexperienced) vigilantes. Watching Oliver try to balance his jobs as both the mayor and also the protector of Star City, Felicity suggests he form a new team, but Oliver resists. However, when a deadly new criminal, Tobias Church (guest star Chad L. Coleman), enters the picture, Oliver realizes the best thing for the city might be a new team of superheroes. Meanwhile, the flashbacks take us to Russia where Oliver faces off against the Bratva.
Watch the promo of episode 1 below: