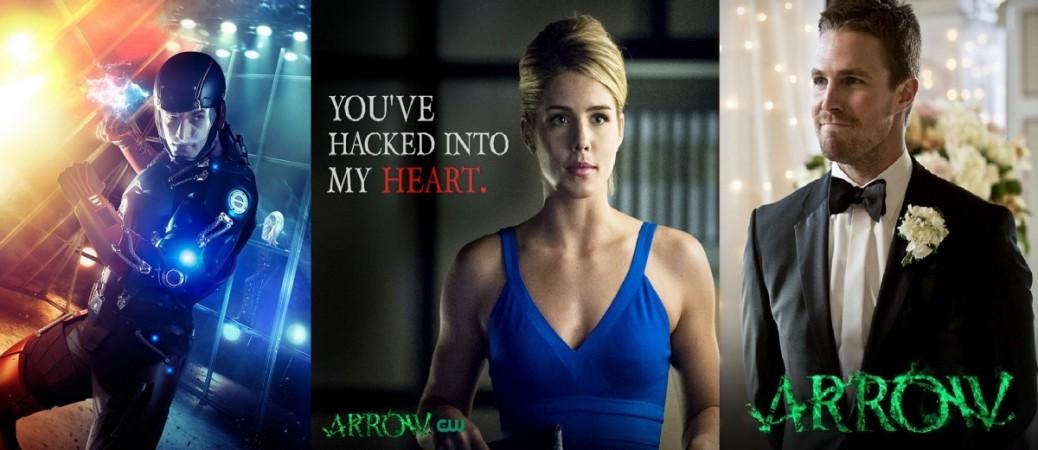 When "Arrow" returns on The CW with season 4, it is likely to focus on the future of Ray Palmer aka The Atom (Brandon Routh), Oliver Queen (Stephen Amell), Felicity Smoak (Emily Bett Rickards) and Thea Queen (Willa Holland).
Although the cast and crew of the superhero series have not spilled any details of the upcoming sequel, fans have already started speculating about it and if the theories are to be believed then the popular power couple of the show may share wedding vows soon.
"A month into their road trip Oliver and Felicity crash a wedding. It's Felicity's idea; Oliver has to be convinced. Lucky for Felicity, convincing Oliver Queen to do things he wouldn't normally do is kind of her thing," according to a fan, freyjaschariot.
Meanwhile, another admirer named schroederplayspiano assumed that a mysterious hacker will bring back Amell's character and his lady love to Starling City. Once the couple rejoins Team Arrow, they will try to rekindle broken relationships while discovering and preserving their own relationships among the emotional and physical battles around them.
In the mean time, an "Arrow" fan hinted about a new enemy entering the city and creating problems for the team. "A newcomer to Starling City with an interesting connection to Ray Palmer unwittingly stirs up trouble amongst the Arrow team," as per opinion of HopelesslyHappy.
Some of the followers even hinted about Thea's costume in season 4 and stated that she will force Oliver to return. "When reports of a woman in red and blue start flying around National City, Oliver is forced to pull on his Hood one last time," according to YouProbablyDontKnowMe .
Although the name of the woman is not mentioned, according to DC Comics, Speedy has Red and Blue costume. Earlier, even Amell had hinted about the couple's return to Starling City beacuse of Thea. So it can be assumed that Holland will have a costume change in the upcoming season.