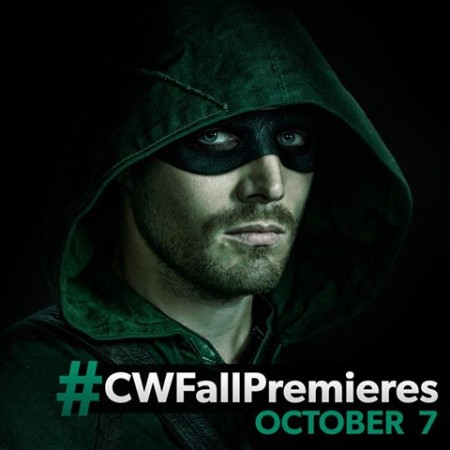 When "Arrow" returns on The CW with season 4 on 7 October, it is likely to focus on the various challenges faced by Oliver Queen (Stephen Amell), Felicity Smoak (Emily Bett Rickards), Roy Harper aka Arsenal (Colton Haynes), Thea Queen (Willa Holland) and Laurel Lance aka Black Canary (Katie Cassidy).
After the thrilling finale of "Arrow" season 3, Olicity fans are eager to know about the new developments in the popular onscreen power couple's lives and if fan speculations are to be believed they may welcome a new member to the family in the upcoming season.
While the cast and crew have not spilled out any details about the pregnancy of Rickards' character in the fourth season of supernatural series, an admirer named Lizzy stated that a baby is on the way for Oliver and his lady love.
"Everything was together, everyone was happy, and then Malcolm Merlyn shows up and he seems to have had a field day with the Lazarus Pit. Roy's back indefinitely to help, Thea has to come to terms with having a family again, and Oliver and Felicity have a new adventure," she wrote.
Meanwhile, another follower of the show monikered as Rennie75 speculated about Laurel being in danger while trying to protect Starling City. According to the person, Cassidy's character suffered various injuries "since Ollie had ridden off into the sunset with Felicity" and she will be in coma.
However, the official synopsis of "Arrow" does not provide any details about the lead characters of the serious except throwing few questions to the minds of the viewers. Here is the description of upcoming sequel according to Melty:
After defeating his most formidable foe to date and riding off into the sunset with longtime flame Felicity Smoak, Oliver Queen (a.k.a. The Arrow) left Starling City with the hopes of beginning a new life. But will Oliver ever truly be able to leave behind his past as the Arrow, and, if so, what becomes of the team he has worked so hard to assemble? Will Diggle, Thea, and Laurel be left to continue Oliver's crusade without him? And with Malcolm Merlyn having ascended to the top of the League of Assassins as the new Ra's al Ghul, is anyone really safe?